Click here to edit subtitle
| | |
| --- | --- |
| Posted on June 21, 2008 at 3:35 PM | |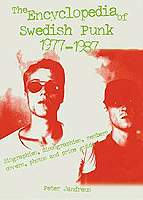 I've just been reading about this book, 'The Encyclopedia of Swedish Punk 1977-1987' by Peter Jandreus and, given the huge influence of the Swedish Punk scene, thought I'd give it a mention here.
It's a hardcover job with 320 illustrated, colour pages and for those of us who are not multi-lingual, it's thankfully written in English. Apparently it has taken Jandreus about ten years to collect the information contained within the book and, when you consider it details more than 300 bands, has a musicians' index and features 800 records in illustration alone, it's apparent this was quite a mammoth undertaking.
All the obvious bands of the era are featured - ANTI-CIMEX, MOB 47, ATTENTAT, KSMB, AVSKUM, DISARM and STREBERS to name but a few along with other, less notorious bands from the same ten-year period.
From reading the press blurb on the publisher's website, the discographies are comprehensive in the extreme listing variations in vinyl pressings and covers, the availability of coloured vinyl and an established price guide indication rating for each and every entry!!
You can get more info on the book via the Premium Publishing website and, if you hit the 'Press' link, you can access about 16 pages in PDF format including Jandreus's own introduction.