Click here to edit subtitle
| | |
| --- | --- |
| Posted on October 3, 2008 at 5:41 PM | |
...Here's the Country Life

Yeah - hard to believe huh? Once the 'Most Feared Man In Britain' has now become a TV ad star promoting Country Life Butter (see footage below).  Here's how The Guardian reported on it:

One-time punk pin-up and sometime anarchist John Lydon has mellowed further into middle age by starring in a £5m TV campaign for Country Life butter. The campaign marks the first time the 52-year-old has appeared in a TV commercial.
"People know I only do things that I want to or that I believe in and I have to do it my way," said Lydon on deciding to appear in the TV ad.
"I've never done anything like this before and never thought I would, but this Country Life ad was made for me and I couldn't resist the opportunity."
It seems a far cry from 1977, when the punk movement was riding a crest of popularity and Lydon and the Sex Pistols caused outrage by releasing God Save the Queen during the week of the Queen's silver jubilee.  The anti-royal song was a hit but outraged traditionalists, so much so that Lydon was reportedly attacked in the street.
The Country Life advert cashes in on Lydon's standing as a British icon, albeit of the nihilistic variety.
He is seen wearing a tweed suit and gallivanting around the countryside, suggesting reasons why he might prefer Country Life, before settling on the fact that the Dairy Crest-owned brand simply tastes better.
"It's not about Great Britain, it's about Great Butter," runs the slogan.
The ad, created by WPP agency Grey London, appears on ITV during the Pride of Britain Awards.
In recent years Lydon has led a quiet life, gaining attention in 2006 by competing in I'm a Celebrity, Get Me Out of Here!, in which he was pecked by a group of ostriches before remaining true to his anarchist roots by walking out before the final.
By appearing in the advert Lydon might be courting a new controversy. Dairy Crest has just announced that it is seeking job cuts and could close its Nottingham dairy.

Punk Fucking Rock hey John?  5 Million?? I wonder how those Dairy Crest employees feel about you, "Doing things that you want to do." Lydon really has become a caricature of Punk Rock - no wonder Punk today is but a marketing trend with so-called 'Icons' such as Johnny Rotten denigrates himself to such standards.
I guess there is a positive though - you see how great that toast looks?
Ever get the feeling you've been cheated (again)?
| | |
| --- | --- |
| Posted on September 22, 2008 at 3:20 AM | |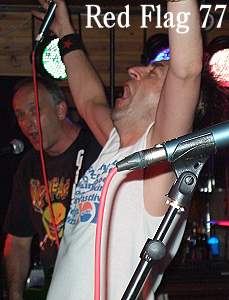 FLAG DAY 2008
Featuring - NEWTOWN KINGS - RED FLAG 77 - TV SMITH - LONDON - WASHOUT
Steamboat Tavern, Ipswich, UK 30th August 2008

This is the only regular, annual Punk Festival in Ipswich and it revolves around the town's premier Punkers - RED FLAG 77. Besides the bands that play in the evening, there is a Pop/Punk quiz in the afternoon, lots of quality veggie food, raffles, lucky dips and the general air of fun, good times and choicest Punk Rock all housed in the most Punk-friendly boozer in Ippo. Can't go wrong...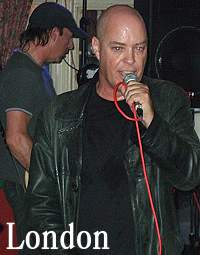 ...Except I did!! I missed WASHOUTS. I did make it for most of LONDON's set though. LONDON was an original '77 band but one that passed me by. The band's original incarnation included Jon Moss on drums who went onto play with the DAMNED and, ultimately, Culture Club (yep - with Boy George). I recall the band's version of 'Friday On My Mind' and the 'Summer Of Love' single, but beyond that my knowledge is sadly lacking. The band played a good set punctuated with lots of powerful guitars, adventurous songs and strong vocals. Sure, they looked like they had indulged in more after-show parties than Captain Sensible but the tunes were energetic, snappy and contained enough bite to warrant LONDON a place on any contemporary Punk Rock bill.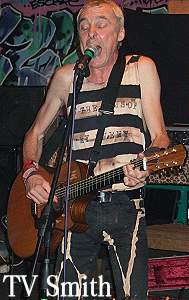 After LONDON, it was time to evacuate to the beer garden for an always-enjoyable, ever-reliable performance by what could be the most consistently impressive performer from the '77 era - former ADVERT, TV SMITH. It's debatable as to whether he has ever released a poor record be it in any of his bands or as a solo performer and, having seen the man live many times, I can never recall a show in which TV has failed to impressive and, even more importantly, has never given anything less than 100%. Here, in the beer garden with his trusty acoustic, the classic songs just flowed - 'One Chord Wonders', 'Tomahawk Cruise', 'The Lion And The Lamb', 'Generation Y', 'No Time To Be 21', 'Not In My Name' and a splattering of songs from the recent album 'In The Arms Of My Enemy'. For 'Runaway Train Driver' the ubiquitous Ippo conga-line formed, with ANTIDOTE's vocalist Huib acting as the engine, trailing the ever increasing conga around the pub and through the loos. Of course, afterward there was a stage invasion before TV got back to bashing out the classics. As ever, a great performance, great songs, spot on political commentary and great fun.
One of the best aspects of Flag Day is catching up with faces old and new. By the end of TV's set, the Guinness was kicking in, tongues were loosened and, as I stood back a little to savour some of the scenes before I headed back to New Zealand a mere three days later, I saw lots of smiles, lots of laughing and lots of friendly faces. There is also a sense of a Punk Community - something all too often lost at such events in today's sanitised Punk Rock world. There were stalls, zine sellers, literature - a genuine sense of sharing information and resources. Flag Day always has such a positive vibe about it - a testament to the guys of RF77.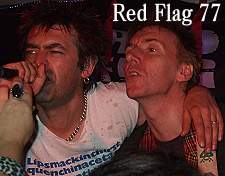 As my Guinness had evaporated once more, I noticed the beer garden had emptied a little and RED FLAG 77 walking the boards of the stage back in the Steamboat. FLAG was down one member - guitarist Mickey Trenter was on his honeymoon - so main guitarist Kev had a stereo set-up and the band sounded tight, punchy and so fucking vital. All the usual favourites were there, delivered with flair and panache that few can match. Something that is special about RF77 is vocalist Rikki and his injection of humour and humility into proceedings. This was no exception with Rikki providing wiliness and presence throughout. Huib joined the band for a blast through UNDERTONES' classic 'Teenage Kicks', a CLASH cover closed the set and, once again, it was a case of "job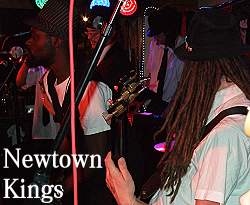 done" for the FLAG.
The Guinness and incendiary performance of RF77 left me rather nonplussed at the Ska of headliners NEWTOWN KINGS. I've never been one to appreciate Ska - and this was no different. It was a very-SPECIALS influenced sound (including a cover of 'Monkey Man' played as the band's second song - maybe peaking too early I thought), the band looked good (especially the dreads of the keyboard and bass players), the crowd danced, skanked and enjoyed - but I bailed after about 7 songs. It's not for me - I wanted to hear something with a little more venom.
Looking back, I was thoroughly glad I made this FLAG DAY - one of the best I can remember in fact. Sure, the reason for me being in the UK at the time was quite overbearing, but this is quite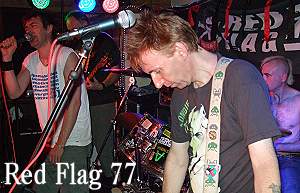 an event and having been at the very first RF77 show some 15 or so years ago, it was a pleasure to go back to NZ with the likes of 'As I Fall' and 'Time Has Been Called' ringing in my ears.

Newtown Kings
Red Flag 77
TV Smith
London
Washouts
| | |
| --- | --- |
| Posted on August 1, 2008 at 2:12 AM | |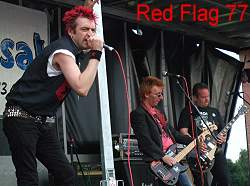 RED FLAG 77 - THE BALLISTICS
Martlesham Heath Village Green, UK - 12th July 2008
This was one of those free outdoor village festivals. I'm sure you know the sort; about 15 bands play and feature school choirs, folk, rock, blues and too many terminally dull cover bands that display not a scrap of soul or sincerity. Among the bands at this all-dayer at Martlesham (a village about 15 minutes from central Ipswich) were the two finest bands in Suffolk: Ska-Punkers THE BALLISTICS and the blazing blast of choice Punk Rock that is RED FLAG 77. Being Summer, it was still daylight, making a rather surreal environment for bands more accustomed to playing in dark clubs and disreputable boozers.
I arrived with an hour to spare, so with an over-priced pint of beer in hand, stood in the beer tent and took in the turgid (lack of) tunes of Mohawk. Think Pearl Jam but slower. Yawn... A kinda country-rock band followed; not too thrilling but a 100% improvement on Fuck-Hawk.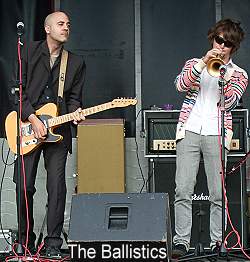 Finally THE BALLISTICS came on and instantly had the amassed crowd of Punkers, skankers and drunks at the front of the stage dancing and smiling. The band looked sharp (Roki distinctly so I must say) and sounded even sharper. From memory, most of the tracks in the band's 30-minute set were taken from the 'Spirit of Kelso Cochrane' album with a few new songs thrown in including the debut performance of a natty new tune. A tasty cover of RANCID's 'Time Bomb' was aired and the set closed with a sing-a-long-a-Glen in the shape of 'My Uncle Fred'. What makes THE BALLISTICS a step above most other Ska bands is the band's sense of fun and a sound and attitude that has a closer affinity with THE SPECIALS rather than banal blowhards like VOODOO GLOWSKULLS.
RED FLAG 77 followed on the second stage (well, truck as it was) and locked in and kicked out in an instant with 'How Low' followed by what could be the best song ever written by an Ipswich Punk band, 'As I Fall'. From there it was a clinical, tight performance with highlights being 'Time Has Been Called' and set-closer 'Backs To The Wall'. 'Nice Boys Don't Play Rock 'n' Roll' by ROSE TATTOO got the FLAG treatment and, with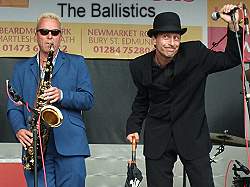 the new football (OK - Soccer for non-European readers!) season but a week or so away, vocalist Rikki kicked a few Ipswich Town inflatable beach balls into the crowd and then promptly burned through a turbo-charged take of 'Football Crazy'. It's great to hear the band still sounding so urgent and exciting; the new tracks exhibited here are trademark FLAG scorchers with a depth few of the band's contemporaries could match.
The 'festival' scenario certainly favoured the more accessible sounds of THE BALLISTICS, but RED FLAG 77 unequivocally provided the proverbial kick-in-the-guts that these events usually so desperately need.
I headed to the beer tent and paid only fleeting interest in SUSPECT DEVICE - a 'Sound Of The Suburbs' Punk jukebox cover band. 'Teenage Kicks', 'Babylon's Burning', 'Should I Stay Or Should I Go' yada yada yada. Kinda fun but following the incinerating aural blast of RED FLAG 77, the band sounded pedestrian and laboured.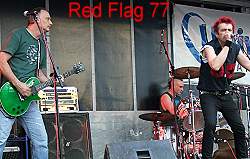 The bands that followed were another pair of tedious cover bands. Anything But Ordinary was everything but interesting. The band did vaguely lift me out of my coma with a good version of THE JAM's 'A Town Called Malice'; the singer's voice was a dead ringer for Paul Weller and I even considered applauding for a split second. Stingray closed the night and were only interesting in as much as the keyboard player wore a CLASH T-shirt that I had never seen before. It's a shame the band's sound was much less interesting. We got Franz Ferdinand and, apparently, the Arctic Monkeys. As the band's collective, well-deserved violent destruction was unlikely to occur, I went for another pint of Stella and contemplated what slow, torturous death would please me most for Mofohawk and Shitray.
| | |
| --- | --- |
| Posted on October 27, 2007 at 4:51 PM | |
What a tragic weekend October 20-21 represented for the world of Punk Rock. The loss of any influential Punk musician is always sad, but when that loss is to incurable disease it makes things even worse. These three guys feature heavily in the House Of Scanner record collection and their passing leaves a sizeable hole as they were all still musically active in some way.
R. I. P. Guys - but don't turn it down!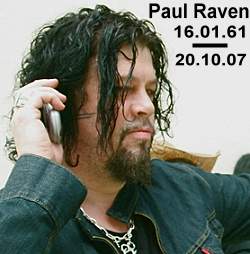 In the early hours of Saturday 20 October 2007, former KILLING JOKE bassist, Paul Raven died in his sleep aged 46. The cause of death was a heart attack and occurred in Geneva, Switzerland where he was working on his latest recording project. He was found by his PRONG band-mate, Ted Parsons.
Raven was born in Wolverhampton, England on 16 January 1961. By 1979 he had recorded an album with local Punk band, NEON HEARTS (re-issued on Overground Records) before joining the glam-orientated band, KITSCH (featuring Tyla who went onto be in Dogs D' Amour).
When original KILLING JOKE bassist, Youth, left the band after its move to Iceland, Raven filled the position in 1982. His vinyl debut was the 'Birds Of A Feather' single. His tenure included the album 'Night Time' which proved to be the band's biggest commercial success and spawned the hit single, 'Love Like Blood'.
Raven was fired from the band in 1987 only to be rehired two years later and remained in the band until its initial demise in 1991. He reappeared in KILLING JOKE in 2003.
Raven's other musical activities saw him performing and recording with a predominantly industrial set of bands including MURDER INC, PIGFACE, GODFLESH and PRONG. He reached a wider audience when he hooked up with the infamous Al Jourgensen of MINISTRY, playing on the albums 'Rio Grande Blood' and 'The Last Sucker'.
At the time of Raven's death he was working with French Industrialists TREPONAM PAL on their collaboration with Ted Parsons and members of YOUNG GODS.
In a statement, KILLING JOKE vocalist Jaz Coleman and guitarist Geordie Walker say, "We are all deeply stricken with grief at the unannounced departure of possibly the funniest man on planet Earth and a brother to us all: Paul Vincent Raven. Unimaginable sadness is felt by all."
On finding Raven, Ted Parsons says, "I found Raven asleep in a chair the next morning. I thought nothing of it, as Raven would sleep like this on the tour bus all the time. Then I looked closer at him, and he looked very gray. I checked his pulse and there was none. I yelled for the other guys in the band. We immediately did some CPR and called for an ambulance. Medics arrived quickly, but after an hour of trying to get his heartbeat back, they could not save him. They said he died in his sleep, probably around 6 a.m. It was then 9:30 a.m."
Parsons added: "Words can't describe how I feel right now. I'm devastated. He will be missed by many."
I never saw Raven play live. I own about eight KILLING JOKE albums, but those that really connect with me are the pre-Raven discs. The pick of the JOKE albums to feature Raven has to be the pounding power of 'Extremities, Dirt And Other Repressed Emotions'.
Just looking back over this piece and Raven's CV, his legacy in the annals of Punk and alternative music as a whole cannot be understated.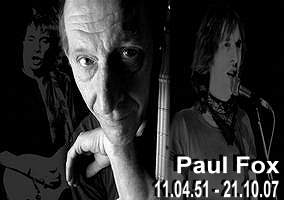 At 3am on Sunday 21 October 2007, RUTS guitarist Paul Fox died at his home in Uxbridge, England. He was aged 56 and died of the lung cancer that plagued him for the months prior his death.
Fox, the son of publican parents, was born in Bermondsey, South London on 11 April 1951. When he was a child, his parents moved to Hayes, Middlesex. It was in the early 70s at a hippie commune in Anglesey that Fox found some musical feet - albeit in the prog-rock band Aslan. The commune disbanded in 1975 and Fox returned to London to join a funk band that did the London pub circuit.
Come 1977 with the vitriol of Punk Rock sweeping the capital, Fox teamed up with Malcolm Owen (vocals), John Jennings (bass) and Dave Ruffy (drums) and the band we all know as THE RUTS was formed. Fox played a pivotal songwriting role. With his grounding in other genres of music, Fox created a menacing, often haunting, style that revealed his versatility; he was a lover of reggae and could switch styles with ease. This would lead to some of the greatest moments in the recorded output of THE RUTS.
The song the band, and Fox, is most remembered for is 'Babylon's Burning' a forthright commentary on the discontent in Britain's cities. It reached number seven in the 1979 charts, and the follow-up, 'Something That I Said', also charted high. The first album, 'The Crack', remains a classic and is one of the definitive Punk albums of the era.
Unfortunately, in 1980, the band's vocalist, Malcolm Owen, died of a heroin overdose. It's a drug that Fox himself would also battle in future years. The band continued until 1982, as RUTS DC with Fox sharing vocal duties. The direction though was more dub-reggae than the taut, explosive Punk apparent on 'The Crack'.
Fox continued playing as the years went on, first in DIRTY STRANGERS - a Rolling Stones-style combo that released a couple of albums on which both Keith Richards and Ronnie Wood guested. In 1983 there was the short-lived CHOIR MILITIA, rock band SCREAMING LOBSTERS in 1987 and indie outfit, FLUFFY KITTENS between 1991 and 1994.
There were a couple of low-profile singles (Chelsea Punk Rock Allstars in 1997 and with Ska artist Lauren Aitken in 2000) that followed, but Fox basically entered musical retirement at this stage and earned an income as a carpenter in Ruislip, Middlesex.
Last year Fox formed a new band, FOXY'S RUTS that featured his eldest son, Lawrence, on drums. His last recorded work was released earlier this year with dub-reggae band, the DUBCATS.
Fox's final live performance was at a RUTS reunion in London with Henry Rollins taking over vocal duties. This was a benefit show for Fox following his diagnosis of the cancer that would ultimately kill him.
Fox is survived by his ex-wife Sharon and two sons, Lawrence and William.
I missed seeing THE RUTS - I was only 11 in 1980. I do recall the first time I heard the band though. It was in the 'Times Square' movie. I was about 13 I guess and 'Babylon's Burning' just appeared - and wiped me out. It was only a matter of saving pocket money until I went and bought 'The Crack'. It's still an album I adore and coupled with 'Staring At The Rude Boys' forms mandatory listening.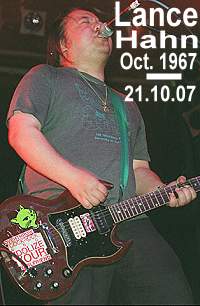 On Sunday 21 October 2007 Lance Hahn of the band J CHURCH died after a long illness brought on by complications from kidney disease. He was 40. Hahn had been comatose since Friday 12 October following a collapse during dialysis. Hahn's girlfriend, Liberty Lidz, says, "as far as the doctors can tell, this collapse was due to a sudden, drastic drop in blood pressure, which in turn was probably caused by a recurrence of the infection he had had in September combined with the stress of dialysis. He received immediate CPR from medical professionals at the dialysis center, but as it took 15 or 20 minutes to resuscitate him, he suffered neurological damage from lack of oxygen to the brain, leaving him in a coma from which he never returned."
Hahn was born in Hawaii in 1967. In 1984 he formed the respected CRINGER after a spell in a skatecore band called SCARRED FOR LIFE. CRINGER was one of the first and certainly the most recognised Punk Rock band to be based in Hawaii. The band lasted until the end of 1991 having toured extensively and releasing many records, notably the 'Tikki Tikki Tembo No Sa Rembo' album.
When Hahn relocated to San Francisco he put together the prolific J CHURCH. The band released a mass of singles, EPS and albums since its inception in 1992. "A lot of people write trying to keep track of all the records we put out," Hahn said in 1995. "I can't even remember."
Besides J CHURCH and CRINGER, Hahn also played guitar for Beck in 1994, owned and operated the Honey Bear record label, was a long-time contributor to the Asian pop culture magazine Giant Robot and Maximumrocknroll, and published the zine Some Hope and Some Despair.
Hahn and Lidz moved to Austin in 2000 where Hahn continued with J CHURCH. Many in the city who were unfamiliar with Hahn's music knew him as a friendly, knowledgeable manager at the Vulcan Video store, where he had worked for the past six years.
His final project was a nearly completed book called Let The Tribe Increase about the history of anarchist Punk bands, portions of which have been excerpted in Maximumrocknroll.
The spectre of failing health dogged Lance in his last months. Like so many musicians and artists in Austin, he had no health insurance. A benefit compilation entitled 'Let's Do It For Lance!' was released to help defray the cost of his medical bills. Vulcan Video also set up a pay-pal account to collect donations towards his medical expenses.
Lance's final blog entry, on 7 October was as close to a good-bye as we will get. "Even with the drugs I feel like I've got needles in my stomach. I'm about to run out of Vicodin and I'm pretty nervous about it. I know I've said it before but I don't mind dying or getting hurt. It's the pain I can't handle."
Sobering stuff indeed. I saw J CHURCH many times - I met Lance a few times too and an always-affable guy he was. Oddly, my residing memory of the band was at a below-par gig in Cambridge. Lance had the flu so badly that he could barely speak, let alone sing! To make matters worse, the PA was terrible. Still, he and the band soldiered on with a lot of Hahn humour in tow. It was always incredibly apparent at J CHURCH shows just how many releases the band had out there; I'd always return loaded with CDs and vinyl of yet more J CHURCH nuggets.
Given Lance's involvement in Punk, it's beyond question whether the man will be missed. He represented everything Punk should be - intelligent, vocal, original and sincere.
I do not want to be a leader, I do not want to be lead
I just want to go to bed
At times it cuts right to the bone
An ugly fear of dying alone
'Two Friends' - CRINGER (1989)
| | |
| --- | --- |
| Posted on December 22, 2006 at 7:41 PM | |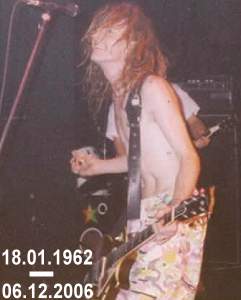 How often do things of a more negative note hit at Christmas? I heard today that Darren Brown, more commonly known to us in the Punk world as Wiz, died on 6 December 2006 as the result of a blood clot in the brain. He died at St Georges Hospital in Tooting, South London with his closest friends and family at his bedside. He was only 44 and was taken ill at a band rehearsal earlier the same week.
I recall seeing Wiz's first band, MEGA CITY FOUR many, many times. The band was a staple for any Punk in the late 80s; a band that just seemed to constantly tour and play live. The shows were always energetic, as was the band's recorded output. By the time the band had disbanded in 1996, I had lost a bit of interest I have to confess - probably more than a bit if I am honest. The records had lost their youthful adrenal surge and urgency, but live the band still cut it with the very best.
Wiz then went on to form SERPICO and, finally, IPANEMA which totally revived my interest in the man and his music. At the time of his passing, he had just finished writing the new IPANEMA album and had returned from a US Tour.
I spoke to the man many times, but one of the most memorable times was at a show in London by Bob Mould's SUGAR - it may even have been SUGAR's first UK show. MEGA CITY FOUR hadn't played Ipswich for a while, so I went and asked him when the next show would be. Wiz was amazed that someone about to see Bob Mould could even contemplate a band like MEGA CITY FOUR - his band - let alone his band performing in their hometown!! But, he promised a show would occur soon - and it did!
My condolences go out to all his family and friends.
If anyone wants to sign a condolence book, or access more information, go to www.megacityfour.co.uk