Click here to edit subtitle
| | |
| --- | --- |
| Posted on September 22, 2008 at 3:20 AM | |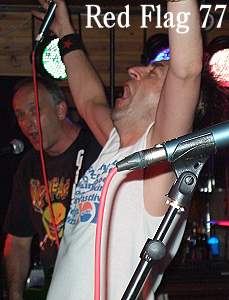 FLAG DAY 2008
Featuring - NEWTOWN KINGS - RED FLAG 77 - TV SMITH - LONDON - WASHOUT
Steamboat Tavern, Ipswich, UK 30th August 2008

This is the only regular, annual Punk Festival in Ipswich and it revolves around the town's premier Punkers - RED FLAG 77. Besides the bands that play in the evening, there is a Pop/Punk quiz in the afternoon, lots of quality veggie food, raffles, lucky dips and the general air of fun, good times and choicest Punk Rock all housed in the most Punk-friendly boozer in Ippo. Can't go wrong...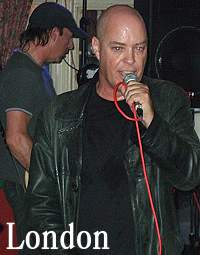 ...Except I did!! I missed WASHOUTS. I did make it for most of LONDON's set though. LONDON was an original '77 band but one that passed me by. The band's original incarnation included Jon Moss on drums who went onto play with the DAMNED and, ultimately, Culture Club (yep - with Boy George). I recall the band's version of 'Friday On My Mind' and the 'Summer Of Love' single, but beyond that my knowledge is sadly lacking. The band played a good set punctuated with lots of powerful guitars, adventurous songs and strong vocals. Sure, they looked like they had indulged in more after-show parties than Captain Sensible but the tunes were energetic, snappy and contained enough bite to warrant LONDON a place on any contemporary Punk Rock bill.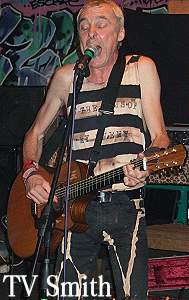 After LONDON, it was time to evacuate to the beer garden for an always-enjoyable, ever-reliable performance by what could be the most consistently impressive performer from the '77 era - former ADVERT, TV SMITH. It's debatable as to whether he has ever released a poor record be it in any of his bands or as a solo performer and, having seen the man live many times, I can never recall a show in which TV has failed to impressive and, even more importantly, has never given anything less than 100%. Here, in the beer garden with his trusty acoustic, the classic songs just flowed - 'One Chord Wonders', 'Tomahawk Cruise', 'The Lion And The Lamb', 'Generation Y', 'No Time To Be 21', 'Not In My Name' and a splattering of songs from the recent album 'In The Arms Of My Enemy'. For 'Runaway Train Driver' the ubiquitous Ippo conga-line formed, with ANTIDOTE's vocalist Huib acting as the engine, trailing the ever increasing conga around the pub and through the loos. Of course, afterward there was a stage invasion before TV got back to bashing out the classics. As ever, a great performance, great songs, spot on political commentary and great fun.
One of the best aspects of Flag Day is catching up with faces old and new. By the end of TV's set, the Guinness was kicking in, tongues were loosened and, as I stood back a little to savour some of the scenes before I headed back to New Zealand a mere three days later, I saw lots of smiles, lots of laughing and lots of friendly faces. There is also a sense of a Punk Community - something all too often lost at such events in today's sanitised Punk Rock world. There were stalls, zine sellers, literature - a genuine sense of sharing information and resources. Flag Day always has such a positive vibe about it - a testament to the guys of RF77.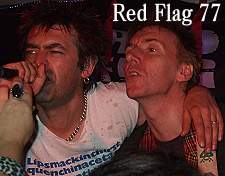 As my Guinness had evaporated once more, I noticed the beer garden had emptied a little and RED FLAG 77 walking the boards of the stage back in the Steamboat. FLAG was down one member - guitarist Mickey Trenter was on his honeymoon - so main guitarist Kev had a stereo set-up and the band sounded tight, punchy and so fucking vital. All the usual favourites were there, delivered with flair and panache that few can match. Something that is special about RF77 is vocalist Rikki and his injection of humour and humility into proceedings. This was no exception with Rikki providing wiliness and presence throughout. Huib joined the band for a blast through UNDERTONES' classic 'Teenage Kicks', a CLASH cover closed the set and, once again, it was a case of "job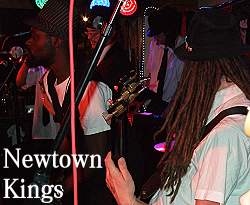 done" for the FLAG.
The Guinness and incendiary performance of RF77 left me rather nonplussed at the Ska of headliners NEWTOWN KINGS. I've never been one to appreciate Ska - and this was no different. It was a very-SPECIALS influenced sound (including a cover of 'Monkey Man' played as the band's second song - maybe peaking too early I thought), the band looked good (especially the dreads of the keyboard and bass players), the crowd danced, skanked and enjoyed - but I bailed after about 7 songs. It's not for me - I wanted to hear something with a little more venom.
Looking back, I was thoroughly glad I made this FLAG DAY - one of the best I can remember in fact. Sure, the reason for me being in the UK at the time was quite overbearing, but this is quite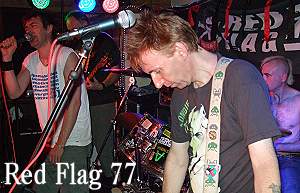 an event and having been at the very first RF77 show some 15 or so years ago, it was a pleasure to go back to NZ with the likes of 'As I Fall' and 'Time Has Been Called' ringing in my ears.

Newtown Kings
Red Flag 77
TV Smith
London
Washouts
| | |
| --- | --- |
| Posted on September 1, 2008 at 2:06 AM | |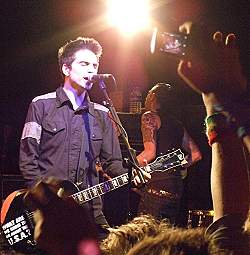 ANTI-FLAG - CANCER BATS - BLACK LUNGS
Colchester Arts Centre, UK - Tuesday 19th August 2008

Of all the Punk bands that signed to a major label, few have faced such a furore as ANTI-FLAG did when the dollars of RCA were waved. The band's anti-capitalist, non-conformist message suddenly seemed a mockery. Yet, the band has retained its lyrical stance and political objective. Yes, I have been critical of the band with suggestions of 'Career Punks', but both albums the band has released on RCA have been outspoken and as angry as any the band has released. Furthermore, the Arts Centre in Colchester is far from a 'major-label' venue and, at this show, ANTI-FLAG worked with Atticus to help provide clothing for the Emmaus charity that aims to give the homeless a chance to rebuild their lives within the local community.
I only saw a couple of songs by BLACK LUNGS. They were OK, pretty tough sounding but in one ear and outta the other stuff - mainly because I hooked up with one Jack Flag, RED FLAG 77 roadcrew member and all round good guy who I had not seen in many years.
At the previous night's show in London, Canada's CANCER BATS never got to play for whatever reason. Lucky London!! From the outset, the band played garbled Metal bollocks that occasionally approached a PRONG style power but relied on way too many redundant Metal cliches that had me alternatively cringing, laughing and ultimately yawning. "COME ON COLCHESTER!!! I WANNA SEE ANY MOTHERFUCKERS WITH HAIR OVER THE COLLAR MOTHERFUCKING HEADBANGING!!!" yelled the singer at one stage. Then he screamed something about motherfuckers again, jumped in the crowd (a portion of which had obviously turned up to see these darlings of the Kerrang scene as they were wildly headbanging and moshing [that still the correct term?] throughout) and the band lurched into a sound akin to a cement mixer mating with a demon with a personality disorder. Absolutely terrible - did I mention the word of choice for the 'vocalist' was motherfucker? I'm actually surprised I could understand what he was saying considering the vocals resembled a mountain gorilla with its nuts dangling in an acid bath.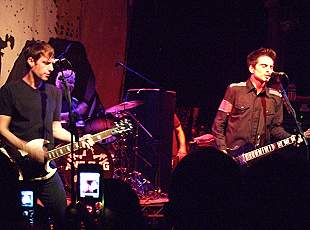 And so ANTI-FLAG. After the sound of feaces being forcibly expelled through a hairy headbanger's arsehole that was CANCER BATS, anything would have been an improvement. Kicking in with 'War Sucks, Let's Party', AF made its intentions clear and never let up - well, except when vocalist/guitarist Justin Sane's amp blew. It was a solid set, much of it obviously stemming from the recent 'Bright Lights Of America' album. Unfortunately, from memory, the entire 'A New Kind Of Army' album was ignored. Standouts included 'Underground Network', 'Emigre', a cracking 'Culture Revolution', the obligatory sing-a-long that is 'Die For The Government' and, surprisingly, set highlight 'Hymn For The Dead'. A cover of 'I Fought The Law' added some fun while additional percussion from bassist/ vocalist Chris #2 and others added to the dynamic of the show itself.
A guy from Emmaus got on stage to speak about their work also. Amidst so many say-nothing bands, it was good to hear some commentary from an organisation outside of the band. Both Justin and Chris #2 were in fine outspoken form about many ills of society also. Additionally, there was free literature available from the likes of People for the Ethical Treatment of Animals. Does anyone else remember when literature (be it zines or free info) was readily available at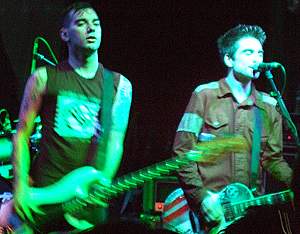 shows? In this day and age where so-called Punk Bands play in-stores at fucking Kentucky Fried Chicken outlets, it was great to see material freely available that did not promote the band per se, but causes the band believe in and which kick AGAINST something. I'm not too sure how much of the socio-political message was taken on by the crowd, but the clarity of AF's manifesto did not make the message incoherent.
The houselights went up and, rather than go backstage and consume any meticulously requested rider, the band hopped down off the stage and mingled just as bands SHOULD do. I left impressed and AF had regained a great deal of some much-lost dignity.
| | |
| --- | --- |
| Posted on August 10, 2008 at 2:47 AM | |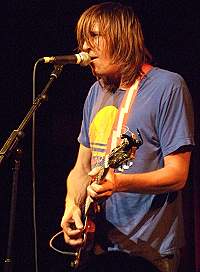 EVAN DANDO
Colchester Arts Centre, UK - 2nd August 2008

One of the most enjoyable aspects of gig going in the UK is the ready availability of good Guinness. The pub we visited before heading to the venue - The Hole In The Wall I think it was - was no exception. The decidedly choice quality of the Guinness, and some even better conversation, prevented us seeing the start of the fella who opened the event. He was dreary to the point of sobriety, mumbled what few words were said and had the general personality of a postage stamp. I heard hints of Al Stewart in what he did - that's to say contemporary folk stylings. The extra Guinness in the pub was certainly the highlight of Mr. Jejune's set.
Is it really SIXTEEN years since THE LEMONHEADS released 'It's A Shame About Ray' and - even more scarily - TWENTY since 'Lick'? Making matters worse, Dando himself is still a good looking dude who no doubt has many millions of gurls swooning over him - not that I am jealous... the bastard.
He doesn't sound much different either - his voice still embodies that blissed out slacker rock sound coupled with an unerring sense of melody and melancholy.
His set kicked of with virtually the entire 'It's A Shame About Ray' album - dunno if he was trying to plug the stella re-issue of the album that Rhino Recs has released (if so, maybe he should have mentioned it?) - and probably to the detriment of the show. 'Confetti' and 'My Drug Buddy' were particularly effective in this format which was not acoustic as such as Dando played his faithful Gibson SG (occasionally with a bit of distortion too) throughout the show. From the '...Ray' blitz we got selected moments from various other LEMONHEADS albums with the most memorable moments being 'Half The Time' from 'Lovey', a stella 'A Circle Of One' from 'Lick' (I kinda recall 'Mallo Cap' getting an airing too - but the Guinness made me a little hazy come the end) and an upbeat take on the single 'Into Your Arms'.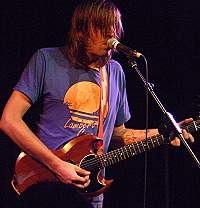 As great as the '...Ray' stuff was, Dando had played most of his trump cards way too early and for the final 30 minutes of his set he just seemed to drone on in the same monotone style that we had already heard - but minus the quality. He himself said very little between songs and what was said was the archetypal slacker mumble. There was some kinda bizarre spoken reference to, "old Punk bands ADVERTS, USERS and RUTS". May be he was trying to appear 'cool' to the amassed Indie throng - but let's be honest - mentioning the RUTS is not being overly elitist or eclectic!
Eventually Dando wandered off with an apathy that mirrored the previous 30 minutes of sounds, the house lights came on and off we headed home pretty much nonplussed by Dando's attempt to be Paul Westerberg-lite. Post-show conversation revealed that the previous night's show in Norwich was not as good as this was - shit - was that the yearly Insomniac's outing??
| | |
| --- | --- |
| Posted on August 1, 2008 at 2:12 AM | |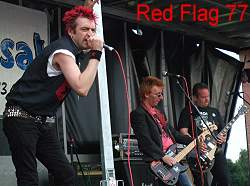 RED FLAG 77 - THE BALLISTICS
Martlesham Heath Village Green, UK - 12th July 2008
This was one of those free outdoor village festivals. I'm sure you know the sort; about 15 bands play and feature school choirs, folk, rock, blues and too many terminally dull cover bands that display not a scrap of soul or sincerity. Among the bands at this all-dayer at Martlesham (a village about 15 minutes from central Ipswich) were the two finest bands in Suffolk: Ska-Punkers THE BALLISTICS and the blazing blast of choice Punk Rock that is RED FLAG 77. Being Summer, it was still daylight, making a rather surreal environment for bands more accustomed to playing in dark clubs and disreputable boozers.
I arrived with an hour to spare, so with an over-priced pint of beer in hand, stood in the beer tent and took in the turgid (lack of) tunes of Mohawk. Think Pearl Jam but slower. Yawn... A kinda country-rock band followed; not too thrilling but a 100% improvement on Fuck-Hawk.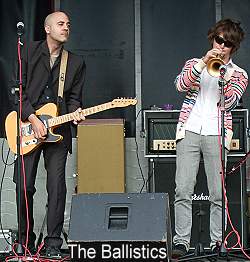 Finally THE BALLISTICS came on and instantly had the amassed crowd of Punkers, skankers and drunks at the front of the stage dancing and smiling. The band looked sharp (Roki distinctly so I must say) and sounded even sharper. From memory, most of the tracks in the band's 30-minute set were taken from the 'Spirit of Kelso Cochrane' album with a few new songs thrown in including the debut performance of a natty new tune. A tasty cover of RANCID's 'Time Bomb' was aired and the set closed with a sing-a-long-a-Glen in the shape of 'My Uncle Fred'. What makes THE BALLISTICS a step above most other Ska bands is the band's sense of fun and a sound and attitude that has a closer affinity with THE SPECIALS rather than banal blowhards like VOODOO GLOWSKULLS.
RED FLAG 77 followed on the second stage (well, truck as it was) and locked in and kicked out in an instant with 'How Low' followed by what could be the best song ever written by an Ipswich Punk band, 'As I Fall'. From there it was a clinical, tight performance with highlights being 'Time Has Been Called' and set-closer 'Backs To The Wall'. 'Nice Boys Don't Play Rock 'n' Roll' by ROSE TATTOO got the FLAG treatment and, with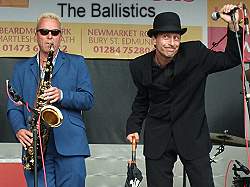 the new football (OK - Soccer for non-European readers!) season but a week or so away, vocalist Rikki kicked a few Ipswich Town inflatable beach balls into the crowd and then promptly burned through a turbo-charged take of 'Football Crazy'. It's great to hear the band still sounding so urgent and exciting; the new tracks exhibited here are trademark FLAG scorchers with a depth few of the band's contemporaries could match.
The 'festival' scenario certainly favoured the more accessible sounds of THE BALLISTICS, but RED FLAG 77 unequivocally provided the proverbial kick-in-the-guts that these events usually so desperately need.
I headed to the beer tent and paid only fleeting interest in SUSPECT DEVICE - a 'Sound Of The Suburbs' Punk jukebox cover band. 'Teenage Kicks', 'Babylon's Burning', 'Should I Stay Or Should I Go' yada yada yada. Kinda fun but following the incinerating aural blast of RED FLAG 77, the band sounded pedestrian and laboured.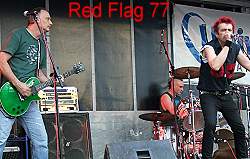 The bands that followed were another pair of tedious cover bands. Anything But Ordinary was everything but interesting. The band did vaguely lift me out of my coma with a good version of THE JAM's 'A Town Called Malice'; the singer's voice was a dead ringer for Paul Weller and I even considered applauding for a split second. Stingray closed the night and were only interesting in as much as the keyboard player wore a CLASH T-shirt that I had never seen before. It's a shame the band's sound was much less interesting. We got Franz Ferdinand and, apparently, the Arctic Monkeys. As the band's collective, well-deserved violent destruction was unlikely to occur, I went for another pint of Stella and contemplated what slow, torturous death would please me most for Mofohawk and Shitray.
| | |
| --- | --- |
| Posted on June 29, 2007 at 10:21 PM | |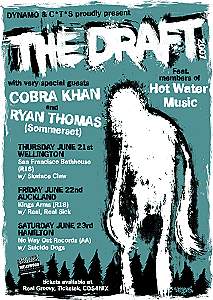 THE DRAFT / COBRA KHAN / RYAN THOMAS / SUICIDE DOGS
No Way Out Records, Hamilton - 23rd June 2007
I don't get to too many shows here in New Zealand due to Taumarunui being kinda isolated and public transport being kinda shite! This worked out ideal though; a Saturday show on a weekend I had already arranged to be in Hamilton and an early finish too - chuffed.
No Way Out Records is on the main street of Hamilton and was formerly known as Upsett Records. It's a shop dedicated to Punk, Hardcore and select Metal - an essential place to visit on any trip to Hamilton. The hall in which the bands played was a rehearsal space, basic floor lighting, no stage, a loud PA - a great place for Punk Rock as it lacked any kind of pretension or atmosphere-crippling mainstream intrusion.
Auckland's SUICIDE DOGS kicked things off with some rowdy Punk Rock. It was the most obviously 'Punk' band on the line-up and played a set of stirring, often bitter CLASH style anthems mixed with a barbed STIFF LITTLE FINGERS approach and topped with a modern thrust. The band looked really good too, with vocalist Luke in stencil-sprayed jeans and heaps of movement from the guys on either side of him. Tracks I caught that were particular standouts include 'Wasting My Life Away' and the lead track of tbe band's debut album 'Breakin' Away'.
Former SOMMERSET man Ryan Thomas was on next. I rated SOMMERSET highly and was looking forward to hearing what Ryan would do with just a guitar and his voice. For 6 songs it was OK, but then it became monotonous. The set consisted of new originals, a few covers (including a decent SOCIAL DISTORTION tune) and a couple of old SOMMERSET classics. I'm sure the new songs would benefit big-time with the backing of a band; as they are they all fused into one with only a couple having enough identity to stand out. If he had played a much shorter set, I think it would have been beneficial for all.
COBRA KHAN feature another ex-SOMMERSET man, Milon Williams, along with members of other notable Kiwi bands like COLD BY WINTER and BALANCE. The sound was instantly bombastic after Ryan's solo dirge. It was loud, hard, punchy and rather bludgeoning - but great! I don't have the band's 'Sleepless Lions' release, but I did pick up a few titles like 'Runaway' that featured some blazing guitar lines and mass-backing vocals. The closing, rather hypnotically punishing track was stunning also. The only negative was the fact that Sarah's keyboards were sometimes lost under the concentrated battering ram of the guitar attack. Definitely a Kiwi band to check out.
THE DRAFT which, like you should already know, feature ¾ of HOT WATER MUSIC (Chuck Ragan being the omitted ¼). Kicking off with the uplifting 'New Eyes Open' the band instantly pulled the crowd (which was stunningly sparse) in and held their attention for the entire 35-40 minute set. Most of the 'In A Million Pieces' album was played, but special mention must go to 'Let It Go', a cataclysmic 'Wired' and the uplifting, triumphal set closer 'Lo Zee Rose'. Chris seemed much chattier on-stage with THE DRAFT than he did the last few times I saw HWM and it was good to see the band enjoying the performance. That rhythm section of Jason and George is still one of the best I have ever seen - I've said that before but the pair are so tight and inventive musically it's a joy to watch and hear. I was expecting at least one HWM track but, thankfully, never got one. It was great to see THE DRAFT not relying on HWM's highly respected reputation.
And so it ended - a great night where the Kiwi bands could hold their heads high and the gang from Gainesville certainly washed away the residue of their former band to offer something new, enthralling and no less special.