Click here to edit subtitle
| | |
| --- | --- |
| Posted on March 11, 2009 at 3:05 AM | |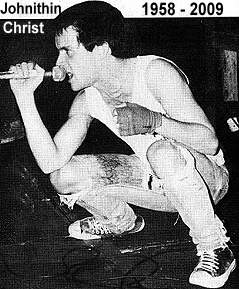 During the morning of Thursday 5th March 2009, Johnithin Christ, vocalist of San Franciscan Hardcore band CODE OF HONOR, died. His immune system had remained weak due to steroids and chemotherapy prescribed to combat a brain tumour diagnosed in 2008. Although he beat that, he did not survive more recent complications resulting from an attack of pneumonia.
Christ was born in 1958 and on beating the tumour he wrote on his Myspace page, "Nice to be alive for a few thousand years more; life is to live."
CODE OF HONOR was birthed after the short-lived SICK PLEASURE broke up. CODE OF HONOR released its records on Subterranean Records - the label run by the band's guitarist, Michael Fox, starting with a split album with older SICK PLEASURE recordings and the 7" 'What Are We Gonna Do?' both of which saw light of day in 1982.
The same year, what has arguably become the band's most widely recognized track, 'What Price Will You Pay?' appeared on the classic 'Not So Quiet On The Western Front' compilation, released by Alternative Tentacles. The band's sole album, 'Beware The Savage Jaw' was released in 1984. It was just as the final mix-down was completed that the band decided to split up.
Subterranean has issued 'Complete Studio Recordings 1982-1984', a comprehensive document of the band's short existence.
"Be fighting still" was a CODE OF HONOR motto, and Christ made it count until the end.
Condolences to those who knew him.
| | |
| --- | --- |
| Posted on February 6, 2009 at 2:06 AM | |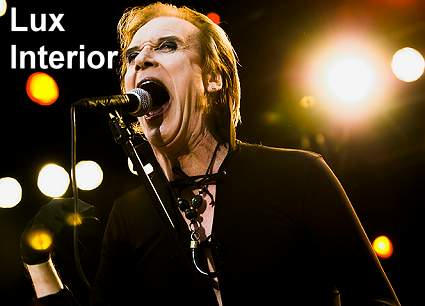 On Wednesday, 4th February 2009, Lux Interior - co-founder and lead vocalist of THE CRAMPS - died at Glendale Memorial Hospital in California. The cause of death was related to a previously existing heart condition. Reports state Interior - real name Erick Lee Purkhiser - as being either 60 or 62 years of age; Billboard magazine's website states he was born in Stow, Ohio on 21st October 1948.
Interior (who took his name from a car ad) founded THE CRAMPS in 1973 after meeting his wife, Kristy Wallace - who would mutate into the band's guitarist, Poison Ivy - in Sacramento, California in 1972. Following a move to New York in 1975, the band was soon a staple of the fledgling New York Punk scene as it welded a love of horror b-movies and sexual depravity with the raw intensity of Punk and lo-fi scuzzy Garage Rockabilly.
Interior was a commanding front man: pale, tall and gaunt. He'd usually appear shirtless with black hair and tiny, low-slung black pants as he crawled, writhed and howled his way across the stage. With the addition of Bryan Gregory (later Kid Congo Powers who was eventually followed by, in a live capacity only, Mike Metoff of THE PAGANS) THE CRAMPS created a trashy, duelling guitar sound that was played in front of a minimalist, animal beat which literally stripped the corpse of rock 'n' roll naked and transformed it into a psychotic, ignominious glorification of trash culture.
Since releasing the debut EP, 'Gravest Hits' in 1979 (which compiled the two previously self-released 7"s), the band recorded a total of 13 studio albums culminating with the 2003-released 'Fiends Of Dope Island'. Interior and Ivy were the only constant members of the band which was still touring with its flamboyant, fetishistic live show until as recently as November 2008 with jaunts across both Europe and the U.S.
Among the band's litany of infamous shows was a notorious concert for patients of a Californian mental institution - the Napa State Mental Hospital - in 1978. Grainy black and white footage of this surreal show abound on You Tube. Other notable appearances include a Halloween episode of Beverly Hills 90210, a performance of 'Tear It Up' from the 1980 film, 'URGH! A Music War' and even the video of 'Bikini Girls With Machine Guns' drawing rave reviews from Beavis and Butt-head.
In 1987, rumours that proved to be false circulated about Interior's death due to a Heroin overdose. "At first, I thought it was kind of funny, but then it started to give me a creepy feeling," the singer told the Los Angeles Times. "We sell a lot of records, but somehow just hearing that you've sold so many records doesn't hit you quite as much as when a lot of people call you up and are obviously really broken-up because you've died."
The general consensus from critics and fans alike is that the early 80s period of the band proved to be its peak with the release of the debut album 'Songs The Lord Taught Us' and its follow-up 'Psychedelic Jungle'. Other notable efforts must require the mention of 'Smell The Female' and the 1987 live album - one that highlighted us here in New Zealand - 'Rockin n Reelin In Auckland New Zealand'. The band even has a spot in the Rock 'n' Roll Hall of Fame via a shattered bass drum through which Interior had forced his head.
He is survived by Wallace, his wife of 37 years. A statement from THE CRAMPS' media representatives reads: "Lux has been an inspiration and influence to millions of artists and fans around the world. He and wife Poison Ivy's contributions with THE CRAMPS have had an immeasurable impact on modern music. He is a rare icon who will be missed dearly."
Stay sick Lux... Music in general needs more like you.
| | |
| --- | --- |
| Posted on January 7, 2009 at 2:55 AM | |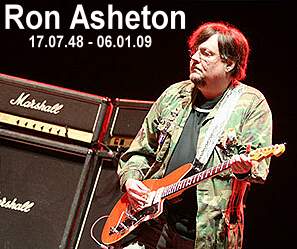 On Tuesday 6th January 2009, Ron Asheton, guitarist of THE STOOGES - whose raw sound helped inspire the first generation of Punk musicians - died. He was 60.
Asheton was found at his Ann Arbor home early Tuesday morning by police officers after they were called by an associate who had not heard from him in several days, said city police Sgt. Brad Hill. There were no signs of foul play, and the death appeared to be of natural causes.
Asheton was born on 17th July, 1948 in Washington, D.C. He moved to Ann Arbor - along with his mother and brother (and co-founder of THE STOOGES) Scott - soon after the death of his father on 31st December 1963.
It was here he would meet one Jim Osterberg and the birth of what was THE prototype band of Punk Rock was formed. Asheton's pummeling, distorted guitar on songs like 'I Wanna Be Your Dog' and 'T.V. Eye' was a hallmark of the group's sound. His "technically adept but also beautifully raw" style was heavily influenced by free jazz and created "beauty out of noise," said Brian Cogan, a Punk-music historian at Molloy College on New York's Long Island.
"He invents the template for Punk-rock guitar," Cogan said. "He's the one who allows Johnny Ramone and the guys in the Dictators to play the way they do."
Asheton recorded three albums with THE STOOGES, although for the third - the mind-melting 'Raw Power' - he was relegated to playing bass thanks in no small part to IGGY POP and the appearance of James Williamson.
Following THE STOOGES split, Asheton played guitar for bands including the NEW ORDER, NEW RACE, DARK CARNIVAL and, most importantly, DESTROY ALL MONSTERS that featured Ann Arbor, Detroit Rock City rival Michael Davis formerly of MC5.
In 2003, Asheston reunited with the rest of THE STOOGES and a new album, 'The Weirdness' was released in 2007. The band toured from here, including an incendiary stadium show at Sydney, Australia's Big Day Out Festival that I was fortunate enough to witness.
In the wake of Asheton's passing, comments from big names and small have flooded in. Former band mate, the irrepressible IGGY POP named Ron Asheton as, "my best friend" while a band statement said, "For all that knew him behind the facade of Mr. Cool & Quirky, he was a kind-hearted, genuine, warm person who always believed that people meant well even if they did not. As a musician Ron was The Guitar God, idol to follow and inspire others. That is how he will be remembered by people who had a great pleasure to work with him, learn from him and share good and bad times with him."
Russ Gibb, who owned Detroit's legendary Grande Ballroom and gave THE STOOGES its first major show there in 1968, said Asheton was a gentleman in all of their dealings.
"Wherever he is today, it's a better place because he's there," Gibb said Tuesday. "He was a gentleman musician. The musicland that you and I live in has lost something today and wherever musicians go, they're better today because he's there."
In 2003, Rolling Stone magazine cited Asheton as the 29th greatest guitarist of all-time (the phonies - just shows what they know! Asheton could tear apart any piece of Clapton with a single chord). 2009 sees THE STOOGES short listed again for induction into the Rock And Roll Hall Of Fame.
I need not say that the band's induction, with specific credence given to Ron Asheton, should not even be in doubt.
Ron is survived by his sister Kathy and his brother Scott 'Rock Action', who is THE STOOGES' drummer.
| | |
| --- | --- |
| Posted on November 3, 2008 at 2:15 AM | |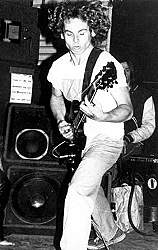 Frank Navetta
2008
On Friday 31 October, 2008 after becoming ill over the course of a few days, Frank Navetta, one of the founding members of legendary So. Cal Punk band, THE DESCENDENTS, passed away. As I write, no precise details of the man's passing are available.
Along with drummer Bill Stevenson and bassist Tony Lombardo, Navetta founded the Manhattan Beach-based band in 1978. It is reputed that Navetta gave the band its moniker. This trio recorded the band's first release - the 1979 released 7" 'Ride The Wild' (which, for the unacquainted collector, can be found on the CD release of 'Bonus Fat'). Soon after the release of the single, a vocalist, one Milo Aukerman, was recruited.
The rest is history...
In 1981, the 'Fat' EP was released followed the following year by what remains the definitive and quintessential DESCENDENTS album, the classic 'Milo Goes To College'. It's often stated that this was THE album that invented the Pop-Punk genre - although that title, even in hindsight, severly diminishes the album's power. It's a classic of the era - uncompromising yet melodic - a voice for every geek Punker ever since.
From memory Navetta played on the 'I Don't Want To Grow Up' album (my copy is back in the UK and all I can find via the web is that Navetta's replacement, Ray Cooper, plied the six-string duties).
In 2002, Navetta rejoined Tony Lombardo and Bill Stevenson for a kind of DESCENDENTS reunion at ALL's Stockage fest in Fort Collins, Colorado where the group played songs from the pre-Milo lineup including 'Ride The Wild' and 'It's A Hectic World'.
Navetta remained a member of the band for six years, eventually moving north to Oregon to become a full-time fisherman - indeed it was Navetta that penned the 'DENTS fishing-themed song, 'Mr. Bass' on 'The Fat EP'.
Little more is known as I write of the man's passing. Please feel free to post information as and when it appears.
| | |
| --- | --- |
| Posted on August 30, 2008 at 3:14 AM | |
Steve Foley
1959- 2008
During the weekend of 23 August 2008, Steve Foley, drummer for the Minneapolis band THE REPLACEMENTS during its final year (1990-91), died from an apparent accidental drug overdose of prescription medication. He was found at his Minneapolis home by some co-workers on Monday 25 August when he did not show up for his job as a car salesman. He was aged 49.
Although he had only been in THE 'MATS for one year, he valued the experience, telling biographer Jim Walsh, "It will always be a treasure in my mind." He toured with the band until its final show on 4 July 1991 at Chicago's Grant Park. Foley had been sober for 15 years following the whirlwind of being a REPLACEMENT, but struggled with anxiety and depression in recent years.
After THE 'MATS, Foley and his brother, Kevin, joined 'MATS bassist Tommy Stinson in his band BASH & POP, which released the 1993 album, 'Friday Night Is Killing Me', on Sire/Reprise Records.
Prior to joining Stinson and frontman Paul Westerberg in THE 'MATS after original drummer Chris Mars bowed out, Foley performed with local rock stalwart Curtiss A for a decade. Some of the other Twin Cities bands he drummed with include Wheelo, Snaps, Bang Zoom, Trailer Trash, Things That Fall Down and the Suprees.
Foley grew up in the Hopkins area of Minneapolis with a tight-knit crew of six siblings, all of whom were music nuts, his sister said. His late father "grouched" about Steve wanting to play the drums professionally until the day he played with THE 'MATS at the Orpheum Theatre.
"Dad couldn't have been happier, and neither could Steve," Colleen said.
| | |
| --- | --- |
| Posted on August 22, 2008 at 2:22 AM | |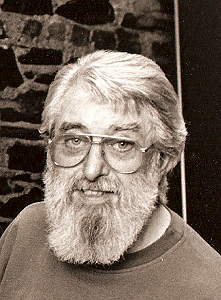 Ronnie Drew
1934 - 2008


On 16 August 2008, Ronnie Drew - vocalist, guitarist and founder of Irish Folk band THE DUBLINERS - passed away peacefully at Dublin's St. Vincent's Private Hospital, aged 73, after a lengthy battle with Cancer.

His connection with Punk is tenuous, but the premise behind THE DUBLINERS echoed a certain Punk attitude. Instead of the Clancy Brothers' bouncy melodies and neat sweaters, THE DUBLINERS - lead by Drew's vocal that has been described as sounding like coal being crushed under a door and/or a bullfrog with a hangover - grew out of Guinness-soaked backroom sessions at O'Donoghue's Pub in their namesake city.

THE DUBLINERS formed out of the remnants of the Ronnie Drew Group in 1962. On St Patrick's Day 1967, the band released 'Seven Drunken Nights' with Ronnie singing. Although it was banned by Irish authorities, the pirate station Radio Caroline gave the song airtime leading to sales of 40,000 copies and Drew's first appearance on BBC's Top of the Pops. With an appearance on the Ed Sullivan Show in the States, the group was established on the international stage.

In 2006 Ronnie recalled, "We had a party which started in 1962 and ended about 1970! A lot of drinking went on, a bit too much at times but in fairness, we managed somehow to keep it kind of even keel." He left THE DUBLINERS in 1974 and released two solo albums before rejoining the group in 1979.

After the end of the band in 1995, he pursued his solo career again and became a frequent collaborator. Among those he recorded with was THE POGUES on a cracking version of 'Irish Rover' recorded for THE DUBLINERS' 25th Anniversary becoming the band's first Top 10 hit. Drew recently recorded with Boston Punks the DROPKICK MURPHYS, lending his snarling baritone to 'Flannigan's Ball' from the band's 'The Meanest of Times' CD.

In 2006, Drew underwent treatment for throat cancer. He suffered a further blow when his wife Deirdre died after a short battle with cancer in June 2007. He is survived by his two children, Cliona and Phelim.

In January 2008 surviving members of THE DUBLINERS along with members of U2, Sinead O'Connor, Bob Geldof, CHRISTY MOORE and SHANE MacGOWAN wrote and recorded 'The Ballad of Ronnie Drew'. The song, which paid tribute to Drew's influence on Irish music and culture, topped the Irish singles charts and proceeds benefited the Irish Cancer Society.
"Build you a statue on St. Stephen's Green, no fairer monument ere to be seen," went the lyrics, "the statue of Ronnie Drew holding the hand of a girl with her hair in a black velvet band."
| | |
| --- | --- |
| Posted on March 3, 2008 at 2:08 AM | |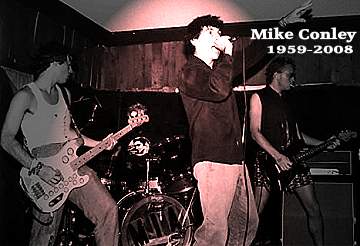 On Thursday 28th February 2008, singer of 1980s Californian Hardcore band, MIA, died due to the results of a head injury. He was 48 years old.
Conley died in suburban Chicago in a motel parking lot near O'Hare International Airport and had suffered a major head wound. Despite rumours of him being murdered and of a person who had been staying at the hotel being charged on the Friday with felony theft and other charges for stealing Conley's cell phone, two of his credit cards and using one of them at a local store, this proved to be no more than a rumour. Conley's death actually resulted from a tragic and freak accident which was the result of a fall in the motel's parking lot.
MIA formed out from the ashes of a Las Vegas Punk band, SWELL, when Conley and drummer Chris Moon move to Orange County. SWELL's guitarist, Nick Adams, soon joins them after a sojourn in San Diego and MIA is born.
The band splits for a while when Conley moves back to Las Vegas. Following MIA appearing on a couple of classic compilations (
Maximum Rocknroll'
s 'Not So Quiet On The Western Front' and 'American Youth Report'), the band reforms when Conley moves back to Orange County.
Over the following years, a series of records was released including 'Murder In A Foreign Place' EP and 'Notes From The Underground' album before the band split once more following a final show supporting DEAD KENNEDYS.
The band reforms in 1986 and records the 'After The Fact' album the following year before the final split.
In 2001, Alternative Tentacles released a compilation of studio and live recordings titled 'Lost Boys' which serves as an ideal catching up point of this great band.
Former DEAD KENNEDYS singer Jello Biafra remembers the first time he saw MIA in Las Vegas in 1983. "The venue was two used storage spaces that some Punks had knocked the middle wall out of and turned into a secret illegal nightclub," Biafra said. "You can't get more Punk Rock than that that, and that is where I first saw MIA." Biafra offered to sign Conley and MIA to his Alternative Tentacles label that night.
Recently, Conley became a champion for revitalizing the economy in Westside Costa Mesa as the owner of The Avalon Bar, 820 19th St., a popular venue for Orange County DJs. As a bar owner, Conley strove to make The Avalon Bar a hip enclave for people in the know. With no sign to attract customers, the establishment relied on word-of-mouth advertising. Conley was skilled at working with wood and restored all the wood cabinetry in the bar himself.
Conley is survived by longtime girlfriend Shelly 'Syd' Leonard and his three daughters: Alex, 18, a freshman and Division 1 soccer player at La Salle University; Zoe, 9, and Ava, 5.
A memorial fund has been set up for Mike's daughters so people can donate if they wish. If you want to help, here is the info:
Mike Conley Family Memorial Fund,
c/o Orange County Teachers Federal Credit Union
P.O. Box 11547, Santa Ana, CA 92711
A website is also in the works.
For further information, check out the following websites:-
The Daily Pilot
(where much of the information for this piece was taken)
MIA Official band site
Alternative Tentacles Records
| | |
| --- | --- |
| Posted on February 5, 2008 at 1:23 AM | |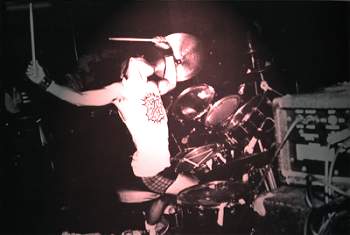 On Wednesday 30th January 2008, Sean Finnegan, the drummer of 80s Washington DC-based Hardcore band VOID, passed away due to an apparent heart attack. He was 43 years old.
Finnegan drummed in VOID for the duration of the band's active life, spanning 1980-1983. At the time of his death, Finnegan was working on the set of an HBO Production titled, 'The Wire'.
VOID was one of the first bands to be associated with Dischord Records, the legendary DC record label, via its appearance on the classic 'Flex Your Head' compilation. It was the band's following release, the classic split record with fellow DC band THE FAITH, which really put it on the map.
VOID played a chaotic, frantic form of Hardcore - possibly the most intense and disjointed of all the Dischord bands. The band's debut show was at a massive 15-band affair at DC's The Wilson Center organized primarily by THE BAD BRAINS.


The band didn't release a great deal during its three year tenure. Besides what is already mentioned, there was only a further three tracks released on the '20 Years Of Dischord' box set and the 'Condensed Flesh' release of early recordings which displays a slightly less intense, chaotic sound.
It should be noted there was also a full-length album recorded in 1984 titled 'Potions For Bad Dreams'. It's a Metal album though and while it is not as cheesy as SSD's 'Break It Up', it's still best avoided.
I never got to see VOID live and, to be honest, I always preferred THE FAITH's side of that record. But the intensity and the influence VOID held - and still hold today - should not be underestimated.
| | |
| --- | --- |
| Posted on October 27, 2007 at 4:51 PM | |
What a tragic weekend October 20-21 represented for the world of Punk Rock. The loss of any influential Punk musician is always sad, but when that loss is to incurable disease it makes things even worse. These three guys feature heavily in the House Of Scanner record collection and their passing leaves a sizeable hole as they were all still musically active in some way.
R. I. P. Guys - but don't turn it down!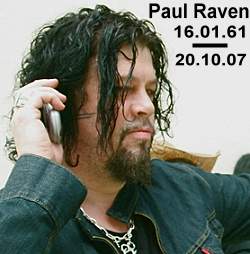 In the early hours of Saturday 20 October 2007, former KILLING JOKE bassist, Paul Raven died in his sleep aged 46. The cause of death was a heart attack and occurred in Geneva, Switzerland where he was working on his latest recording project. He was found by his PRONG band-mate, Ted Parsons.
Raven was born in Wolverhampton, England on 16 January 1961. By 1979 he had recorded an album with local Punk band, NEON HEARTS (re-issued on Overground Records) before joining the glam-orientated band, KITSCH (featuring Tyla who went onto be in Dogs D' Amour).
When original KILLING JOKE bassist, Youth, left the band after its move to Iceland, Raven filled the position in 1982. His vinyl debut was the 'Birds Of A Feather' single. His tenure included the album 'Night Time' which proved to be the band's biggest commercial success and spawned the hit single, 'Love Like Blood'.
Raven was fired from the band in 1987 only to be rehired two years later and remained in the band until its initial demise in 1991. He reappeared in KILLING JOKE in 2003.
Raven's other musical activities saw him performing and recording with a predominantly industrial set of bands including MURDER INC, PIGFACE, GODFLESH and PRONG. He reached a wider audience when he hooked up with the infamous Al Jourgensen of MINISTRY, playing on the albums 'Rio Grande Blood' and 'The Last Sucker'.
At the time of Raven's death he was working with French Industrialists TREPONAM PAL on their collaboration with Ted Parsons and members of YOUNG GODS.
In a statement, KILLING JOKE vocalist Jaz Coleman and guitarist Geordie Walker say, "We are all deeply stricken with grief at the unannounced departure of possibly the funniest man on planet Earth and a brother to us all: Paul Vincent Raven. Unimaginable sadness is felt by all."
On finding Raven, Ted Parsons says, "I found Raven asleep in a chair the next morning. I thought nothing of it, as Raven would sleep like this on the tour bus all the time. Then I looked closer at him, and he looked very gray. I checked his pulse and there was none. I yelled for the other guys in the band. We immediately did some CPR and called for an ambulance. Medics arrived quickly, but after an hour of trying to get his heartbeat back, they could not save him. They said he died in his sleep, probably around 6 a.m. It was then 9:30 a.m."
Parsons added: "Words can't describe how I feel right now. I'm devastated. He will be missed by many."
I never saw Raven play live. I own about eight KILLING JOKE albums, but those that really connect with me are the pre-Raven discs. The pick of the JOKE albums to feature Raven has to be the pounding power of 'Extremities, Dirt And Other Repressed Emotions'.
Just looking back over this piece and Raven's CV, his legacy in the annals of Punk and alternative music as a whole cannot be understated.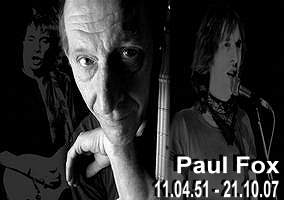 At 3am on Sunday 21 October 2007, RUTS guitarist Paul Fox died at his home in Uxbridge, England. He was aged 56 and died of the lung cancer that plagued him for the months prior his death.
Fox, the son of publican parents, was born in Bermondsey, South London on 11 April 1951. When he was a child, his parents moved to Hayes, Middlesex. It was in the early 70s at a hippie commune in Anglesey that Fox found some musical feet - albeit in the prog-rock band Aslan. The commune disbanded in 1975 and Fox returned to London to join a funk band that did the London pub circuit.
Come 1977 with the vitriol of Punk Rock sweeping the capital, Fox teamed up with Malcolm Owen (vocals), John Jennings (bass) and Dave Ruffy (drums) and the band we all know as THE RUTS was formed. Fox played a pivotal songwriting role. With his grounding in other genres of music, Fox created a menacing, often haunting, style that revealed his versatility; he was a lover of reggae and could switch styles with ease. This would lead to some of the greatest moments in the recorded output of THE RUTS.
The song the band, and Fox, is most remembered for is 'Babylon's Burning' a forthright commentary on the discontent in Britain's cities. It reached number seven in the 1979 charts, and the follow-up, 'Something That I Said', also charted high. The first album, 'The Crack', remains a classic and is one of the definitive Punk albums of the era.
Unfortunately, in 1980, the band's vocalist, Malcolm Owen, died of a heroin overdose. It's a drug that Fox himself would also battle in future years. The band continued until 1982, as RUTS DC with Fox sharing vocal duties. The direction though was more dub-reggae than the taut, explosive Punk apparent on 'The Crack'.
Fox continued playing as the years went on, first in DIRTY STRANGERS - a Rolling Stones-style combo that released a couple of albums on which both Keith Richards and Ronnie Wood guested. In 1983 there was the short-lived CHOIR MILITIA, rock band SCREAMING LOBSTERS in 1987 and indie outfit, FLUFFY KITTENS between 1991 and 1994.
There were a couple of low-profile singles (Chelsea Punk Rock Allstars in 1997 and with Ska artist Lauren Aitken in 2000) that followed, but Fox basically entered musical retirement at this stage and earned an income as a carpenter in Ruislip, Middlesex.
Last year Fox formed a new band, FOXY'S RUTS that featured his eldest son, Lawrence, on drums. His last recorded work was released earlier this year with dub-reggae band, the DUBCATS.
Fox's final live performance was at a RUTS reunion in London with Henry Rollins taking over vocal duties. This was a benefit show for Fox following his diagnosis of the cancer that would ultimately kill him.
Fox is survived by his ex-wife Sharon and two sons, Lawrence and William.
I missed seeing THE RUTS - I was only 11 in 1980. I do recall the first time I heard the band though. It was in the 'Times Square' movie. I was about 13 I guess and 'Babylon's Burning' just appeared - and wiped me out. It was only a matter of saving pocket money until I went and bought 'The Crack'. It's still an album I adore and coupled with 'Staring At The Rude Boys' forms mandatory listening.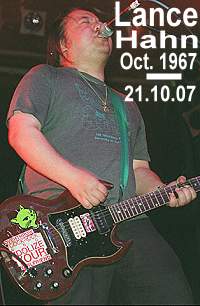 On Sunday 21 October 2007 Lance Hahn of the band J CHURCH died after a long illness brought on by complications from kidney disease. He was 40. Hahn had been comatose since Friday 12 October following a collapse during dialysis. Hahn's girlfriend, Liberty Lidz, says, "as far as the doctors can tell, this collapse was due to a sudden, drastic drop in blood pressure, which in turn was probably caused by a recurrence of the infection he had had in September combined with the stress of dialysis. He received immediate CPR from medical professionals at the dialysis center, but as it took 15 or 20 minutes to resuscitate him, he suffered neurological damage from lack of oxygen to the brain, leaving him in a coma from which he never returned."
Hahn was born in Hawaii in 1967. In 1984 he formed the respected CRINGER after a spell in a skatecore band called SCARRED FOR LIFE. CRINGER was one of the first and certainly the most recognised Punk Rock band to be based in Hawaii. The band lasted until the end of 1991 having toured extensively and releasing many records, notably the 'Tikki Tikki Tembo No Sa Rembo' album.
When Hahn relocated to San Francisco he put together the prolific J CHURCH. The band released a mass of singles, EPS and albums since its inception in 1992. "A lot of people write trying to keep track of all the records we put out," Hahn said in 1995. "I can't even remember."
Besides J CHURCH and CRINGER, Hahn also played guitar for Beck in 1994, owned and operated the Honey Bear record label, was a long-time contributor to the Asian pop culture magazine Giant Robot and Maximumrocknroll, and published the zine Some Hope and Some Despair.
Hahn and Lidz moved to Austin in 2000 where Hahn continued with J CHURCH. Many in the city who were unfamiliar with Hahn's music knew him as a friendly, knowledgeable manager at the Vulcan Video store, where he had worked for the past six years.
His final project was a nearly completed book called Let The Tribe Increase about the history of anarchist Punk bands, portions of which have been excerpted in Maximumrocknroll.
The spectre of failing health dogged Lance in his last months. Like so many musicians and artists in Austin, he had no health insurance. A benefit compilation entitled 'Let's Do It For Lance!' was released to help defray the cost of his medical bills. Vulcan Video also set up a pay-pal account to collect donations towards his medical expenses.
Lance's final blog entry, on 7 October was as close to a good-bye as we will get. "Even with the drugs I feel like I've got needles in my stomach. I'm about to run out of Vicodin and I'm pretty nervous about it. I know I've said it before but I don't mind dying or getting hurt. It's the pain I can't handle."
Sobering stuff indeed. I saw J CHURCH many times - I met Lance a few times too and an always-affable guy he was. Oddly, my residing memory of the band was at a below-par gig in Cambridge. Lance had the flu so badly that he could barely speak, let alone sing! To make matters worse, the PA was terrible. Still, he and the band soldiered on with a lot of Hahn humour in tow. It was always incredibly apparent at J CHURCH shows just how many releases the band had out there; I'd always return loaded with CDs and vinyl of yet more J CHURCH nuggets.
Given Lance's involvement in Punk, it's beyond question whether the man will be missed. He represented everything Punk should be - intelligent, vocal, original and sincere.
I do not want to be a leader, I do not want to be lead
I just want to go to bed
At times it cuts right to the bone
An ugly fear of dying alone
'Two Friends' - CRINGER (1989)
| | |
| --- | --- |
| Posted on October 6, 2007 at 5:17 PM | |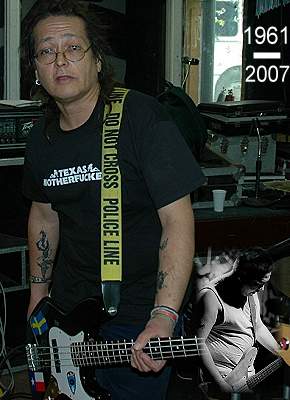 Back on September 22nd 2007, Mikey "Offender" Donaldson passed away in his sleep at his home in Barcelona, Spain. He was aged 46 and, at the time of writing, the cause is unknown.
Mikey was originally from Killeen, Texas and from 1978 through to 1986 played bass in the Austin HC band, THE OFFENDERS. If THE OFFENDERS mean little to you (then check out the re-issue of the 'Endless Struggle' album that Kangaroo Records released) then maybe the name DIRTY ROTTEN IMBECILES (DRI) will mean a little more. Mikey played bass on the band's killer 'Dealing With It' long-player. He was also the man responsible for laying down the bass tracks on the classic MDC debut, 'Millions Of Dead Cops'. Through the early 80s, Mikey could also be found playing bass for the band.
In 1986 he moved to San Francisco and worked with Gary Floyd (ex-DICKS) and Lynn Perko (IMPERIAL TEEN) in an outfit called SISTER DOUBLE HAPPINESS. He picked up a drug habit in San Fran also.
After dropping out of music for the best part of ten years, he returned to Austin and played an OFFENDERS re-union show at Emo's in 2002. There is various You Tube footage of this show circulating on the 'net.
Come 2003, Dave Dictor had recruited his services once more for work on the most recent MDC album, 'Corpses Of The Ultimate Dominators' and he had been touring with the band ever since.
Over the last four years, Mikey had rediscovered his lust for life in Amsterdam, Holland where he lived with his girlfriend Selina Hakkensen. During this period he united with former BGK man, Tony Slug, to work in Tony's band THE NITWITZ and work on his own squat band BRUTALIZED SS.
Donaldson's recent move to Barcelona proved to be his last.
To me - and seemingly many others - Mikey's style of playing was like that of a more Punk Rock Lemmy (MOTÖRHEAD), as he employed the use of bass chords and an aggressive speed-picking style few have matched since.
I never got to see the guy play live. Every time I have seen MDC has been with a line-up that didn't include him. Ironically, according to Dave Dictor, I may have had the chance to see him here in New Zealand next year as MDC had a planned tour of Australia and New Zealand set to happen in February 2008. THE NITWITZ was also planned to tour Turkey in April 2008.
Mikey is survived by his brother Joe Donaldson, sister Marie Donaldson Ward, and sister Sumiko Hakari , all of Killeen, Texas.