Click here to edit subtitle
| | |
| --- | --- |
| Posted on November 3, 2008 at 2:15 AM | |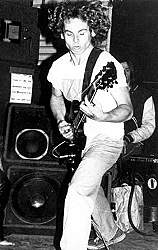 Frank Navetta
2008
On Friday 31 October, 2008 after becoming ill over the course of a few days, Frank Navetta, one of the founding members of legendary So. Cal Punk band, THE DESCENDENTS, passed away. As I write, no precise details of the man's passing are available.
Along with drummer Bill Stevenson and bassist Tony Lombardo, Navetta founded the Manhattan Beach-based band in 1978. It is reputed that Navetta gave the band its moniker. This trio recorded the band's first release - the 1979 released 7" 'Ride The Wild' (which, for the unacquainted collector, can be found on the CD release of 'Bonus Fat'). Soon after the release of the single, a vocalist, one Milo Aukerman, was recruited.
The rest is history...
In 1981, the 'Fat' EP was released followed the following year by what remains the definitive and quintessential DESCENDENTS album, the classic 'Milo Goes To College'. It's often stated that this was THE album that invented the Pop-Punk genre - although that title, even in hindsight, severly diminishes the album's power. It's a classic of the era - uncompromising yet melodic - a voice for every geek Punker ever since.
From memory Navetta played on the 'I Don't Want To Grow Up' album (my copy is back in the UK and all I can find via the web is that Navetta's replacement, Ray Cooper, plied the six-string duties).
In 2002, Navetta rejoined Tony Lombardo and Bill Stevenson for a kind of DESCENDENTS reunion at ALL's Stockage fest in Fort Collins, Colorado where the group played songs from the pre-Milo lineup including 'Ride The Wild' and 'It's A Hectic World'.
Navetta remained a member of the band for six years, eventually moving north to Oregon to become a full-time fisherman - indeed it was Navetta that penned the 'DENTS fishing-themed song, 'Mr. Bass' on 'The Fat EP'.
Little more is known as I write of the man's passing. Please feel free to post information as and when it appears.
Categories: In Memoriam, America