Click here to edit subtitle
| | |
| --- | --- |
| Posted on September 22, 2008 at 3:20 AM | |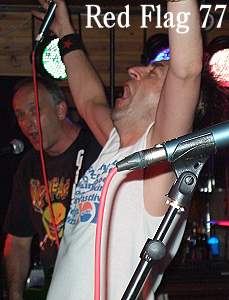 FLAG DAY 2008
Featuring - NEWTOWN KINGS - RED FLAG 77 - TV SMITH - LONDON - WASHOUT
Steamboat Tavern, Ipswich, UK 30th August 2008

This is the only regular, annual Punk Festival in Ipswich and it revolves around the town's premier Punkers - RED FLAG 77. Besides the bands that play in the evening, there is a Pop/Punk quiz in the afternoon, lots of quality veggie food, raffles, lucky dips and the general air of fun, good times and choicest Punk Rock all housed in the most Punk-friendly boozer in Ippo. Can't go wrong...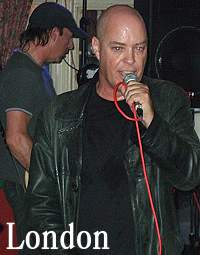 ...Except I did!! I missed WASHOUTS. I did make it for most of LONDON's set though. LONDON was an original '77 band but one that passed me by. The band's original incarnation included Jon Moss on drums who went onto play with the DAMNED and, ultimately, Culture Club (yep - with Boy George). I recall the band's version of 'Friday On My Mind' and the 'Summer Of Love' single, but beyond that my knowledge is sadly lacking. The band played a good set punctuated with lots of powerful guitars, adventurous songs and strong vocals. Sure, they looked like they had indulged in more after-show parties than Captain Sensible but the tunes were energetic, snappy and contained enough bite to warrant LONDON a place on any contemporary Punk Rock bill.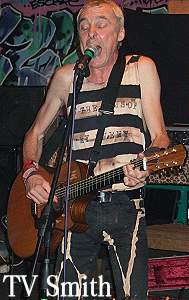 After LONDON, it was time to evacuate to the beer garden for an always-enjoyable, ever-reliable performance by what could be the most consistently impressive performer from the '77 era - former ADVERT, TV SMITH. It's debatable as to whether he has ever released a poor record be it in any of his bands or as a solo performer and, having seen the man live many times, I can never recall a show in which TV has failed to impressive and, even more importantly, has never given anything less than 100%. Here, in the beer garden with his trusty acoustic, the classic songs just flowed - 'One Chord Wonders', 'Tomahawk Cruise', 'The Lion And The Lamb', 'Generation Y', 'No Time To Be 21', 'Not In My Name' and a splattering of songs from the recent album 'In The Arms Of My Enemy'. For 'Runaway Train Driver' the ubiquitous Ippo conga-line formed, with ANTIDOTE's vocalist Huib acting as the engine, trailing the ever increasing conga around the pub and through the loos. Of course, afterward there was a stage invasion before TV got back to bashing out the classics. As ever, a great performance, great songs, spot on political commentary and great fun.
One of the best aspects of Flag Day is catching up with faces old and new. By the end of TV's set, the Guinness was kicking in, tongues were loosened and, as I stood back a little to savour some of the scenes before I headed back to New Zealand a mere three days later, I saw lots of smiles, lots of laughing and lots of friendly faces. There is also a sense of a Punk Community - something all too often lost at such events in today's sanitised Punk Rock world. There were stalls, zine sellers, literature - a genuine sense of sharing information and resources. Flag Day always has such a positive vibe about it - a testament to the guys of RF77.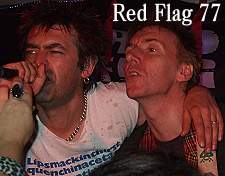 As my Guinness had evaporated once more, I noticed the beer garden had emptied a little and RED FLAG 77 walking the boards of the stage back in the Steamboat. FLAG was down one member - guitarist Mickey Trenter was on his honeymoon - so main guitarist Kev had a stereo set-up and the band sounded tight, punchy and so fucking vital. All the usual favourites were there, delivered with flair and panache that few can match. Something that is special about RF77 is vocalist Rikki and his injection of humour and humility into proceedings. This was no exception with Rikki providing wiliness and presence throughout. Huib joined the band for a blast through UNDERTONES' classic 'Teenage Kicks', a CLASH cover closed the set and, once again, it was a case of "job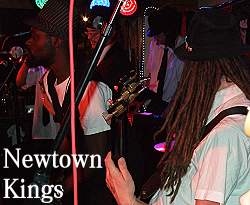 done" for the FLAG.
The Guinness and incendiary performance of RF77 left me rather nonplussed at the Ska of headliners NEWTOWN KINGS. I've never been one to appreciate Ska - and this was no different. It was a very-SPECIALS influenced sound (including a cover of 'Monkey Man' played as the band's second song - maybe peaking too early I thought), the band looked good (especially the dreads of the keyboard and bass players), the crowd danced, skanked and enjoyed - but I bailed after about 7 songs. It's not for me - I wanted to hear something with a little more venom.
Looking back, I was thoroughly glad I made this FLAG DAY - one of the best I can remember in fact. Sure, the reason for me being in the UK at the time was quite overbearing, but this is quite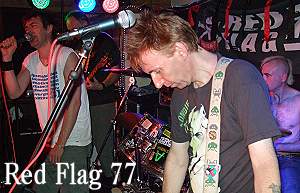 an event and having been at the very first RF77 show some 15 or so years ago, it was a pleasure to go back to NZ with the likes of 'As I Fall' and 'Time Has Been Called' ringing in my ears.

Newtown Kings
Red Flag 77
TV Smith
London
Washouts
Categories: Show Time!, UK