Click here to edit subtitle
| | |
| --- | --- |
| Posted on September 1, 2008 at 2:06 AM | |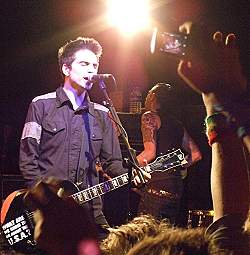 ANTI-FLAG - CANCER BATS - BLACK LUNGS
Colchester Arts Centre, UK - Tuesday 19th August 2008

Of all the Punk bands that signed to a major label, few have faced such a furore as ANTI-FLAG did when the dollars of RCA were waved. The band's anti-capitalist, non-conformist message suddenly seemed a mockery. Yet, the band has retained its lyrical stance and political objective. Yes, I have been critical of the band with suggestions of 'Career Punks', but both albums the band has released on RCA have been outspoken and as angry as any the band has released. Furthermore, the Arts Centre in Colchester is far from a 'major-label' venue and, at this show, ANTI-FLAG worked with Atticus to help provide clothing for the Emmaus charity that aims to give the homeless a chance to rebuild their lives within the local community.
I only saw a couple of songs by BLACK LUNGS. They were OK, pretty tough sounding but in one ear and outta the other stuff - mainly because I hooked up with one Jack Flag, RED FLAG 77 roadcrew member and all round good guy who I had not seen in many years.
At the previous night's show in London, Canada's CANCER BATS never got to play for whatever reason. Lucky London!! From the outset, the band played garbled Metal bollocks that occasionally approached a PRONG style power but relied on way too many redundant Metal cliches that had me alternatively cringing, laughing and ultimately yawning. "COME ON COLCHESTER!!! I WANNA SEE ANY MOTHERFUCKERS WITH HAIR OVER THE COLLAR MOTHERFUCKING HEADBANGING!!!" yelled the singer at one stage. Then he screamed something about motherfuckers again, jumped in the crowd (a portion of which had obviously turned up to see these darlings of the Kerrang scene as they were wildly headbanging and moshing [that still the correct term?] throughout) and the band lurched into a sound akin to a cement mixer mating with a demon with a personality disorder. Absolutely terrible - did I mention the word of choice for the 'vocalist' was motherfucker? I'm actually surprised I could understand what he was saying considering the vocals resembled a mountain gorilla with its nuts dangling in an acid bath.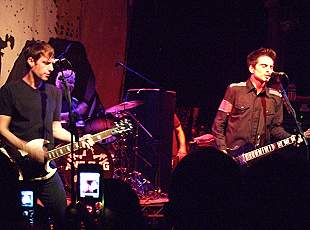 And so ANTI-FLAG. After the sound of feaces being forcibly expelled through a hairy headbanger's arsehole that was CANCER BATS, anything would have been an improvement. Kicking in with 'War Sucks, Let's Party', AF made its intentions clear and never let up - well, except when vocalist/guitarist Justin Sane's amp blew. It was a solid set, much of it obviously stemming from the recent 'Bright Lights Of America' album. Unfortunately, from memory, the entire 'A New Kind Of Army' album was ignored. Standouts included 'Underground Network', 'Emigre', a cracking 'Culture Revolution', the obligatory sing-a-long that is 'Die For The Government' and, surprisingly, set highlight 'Hymn For The Dead'. A cover of 'I Fought The Law' added some fun while additional percussion from bassist/ vocalist Chris #2 and others added to the dynamic of the show itself.
A guy from Emmaus got on stage to speak about their work also. Amidst so many say-nothing bands, it was good to hear some commentary from an organisation outside of the band. Both Justin and Chris #2 were in fine outspoken form about many ills of society also. Additionally, there was free literature available from the likes of People for the Ethical Treatment of Animals. Does anyone else remember when literature (be it zines or free info) was readily available at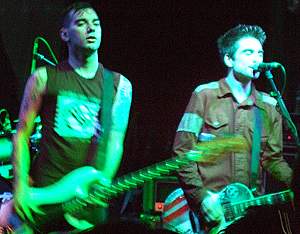 shows? In this day and age where so-called Punk Bands play in-stores at fucking Kentucky Fried Chicken outlets, it was great to see material freely available that did not promote the band per se, but causes the band believe in and which kick AGAINST something. I'm not too sure how much of the socio-political message was taken on by the crowd, but the clarity of AF's manifesto did not make the message incoherent.
The houselights went up and, rather than go backstage and consume any meticulously requested rider, the band hopped down off the stage and mingled just as bands SHOULD do. I left impressed and AF had regained a great deal of some much-lost dignity.
Categories: Show Time!, America