Click here to edit subtitle
| | |
| --- | --- |
| Posted on August 22, 2008 at 2:22 AM | |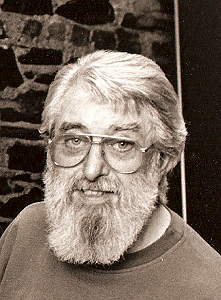 Ronnie Drew
1934 - 2008


On 16 August 2008, Ronnie Drew - vocalist, guitarist and founder of Irish Folk band THE DUBLINERS - passed away peacefully at Dublin's St. Vincent's Private Hospital, aged 73, after a lengthy battle with Cancer.

His connection with Punk is tenuous, but the premise behind THE DUBLINERS echoed a certain Punk attitude. Instead of the Clancy Brothers' bouncy melodies and neat sweaters, THE DUBLINERS - lead by Drew's vocal that has been described as sounding like coal being crushed under a door and/or a bullfrog with a hangover - grew out of Guinness-soaked backroom sessions at O'Donoghue's Pub in their namesake city.

THE DUBLINERS formed out of the remnants of the Ronnie Drew Group in 1962. On St Patrick's Day 1967, the band released 'Seven Drunken Nights' with Ronnie singing. Although it was banned by Irish authorities, the pirate station Radio Caroline gave the song airtime leading to sales of 40,000 copies and Drew's first appearance on BBC's Top of the Pops. With an appearance on the Ed Sullivan Show in the States, the group was established on the international stage.

In 2006 Ronnie recalled, "We had a party which started in 1962 and ended about 1970! A lot of drinking went on, a bit too much at times but in fairness, we managed somehow to keep it kind of even keel." He left THE DUBLINERS in 1974 and released two solo albums before rejoining the group in 1979.

After the end of the band in 1995, he pursued his solo career again and became a frequent collaborator. Among those he recorded with was THE POGUES on a cracking version of 'Irish Rover' recorded for THE DUBLINERS' 25th Anniversary becoming the band's first Top 10 hit. Drew recently recorded with Boston Punks the DROPKICK MURPHYS, lending his snarling baritone to 'Flannigan's Ball' from the band's 'The Meanest of Times' CD.

In 2006, Drew underwent treatment for throat cancer. He suffered a further blow when his wife Deirdre died after a short battle with cancer in June 2007. He is survived by his two children, Cliona and Phelim.

In January 2008 surviving members of THE DUBLINERS along with members of U2, Sinead O'Connor, Bob Geldof, CHRISTY MOORE and SHANE MacGOWAN wrote and recorded 'The Ballad of Ronnie Drew'. The song, which paid tribute to Drew's influence on Irish music and culture, topped the Irish singles charts and proceeds benefited the Irish Cancer Society.
"Build you a statue on St. Stephen's Green, no fairer monument ere to be seen," went the lyrics, "the statue of Ronnie Drew holding the hand of a girl with her hair in a black velvet band."
Categories: In Memoriam, Ireland