Click here to edit subtitle
| | |
| --- | --- |
| Posted on August 1, 2008 at 2:12 AM | |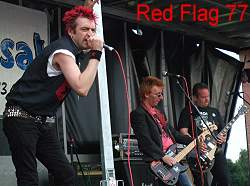 RED FLAG 77 - THE BALLISTICS
Martlesham Heath Village Green, UK - 12th July 2008
This was one of those free outdoor village festivals. I'm sure you know the sort; about 15 bands play and feature school choirs, folk, rock, blues and too many terminally dull cover bands that display not a scrap of soul or sincerity. Among the bands at this all-dayer at Martlesham (a village about 15 minutes from central Ipswich) were the two finest bands in Suffolk: Ska-Punkers THE BALLISTICS and the blazing blast of choice Punk Rock that is RED FLAG 77. Being Summer, it was still daylight, making a rather surreal environment for bands more accustomed to playing in dark clubs and disreputable boozers.
I arrived with an hour to spare, so with an over-priced pint of beer in hand, stood in the beer tent and took in the turgid (lack of) tunes of Mohawk. Think Pearl Jam but slower. Yawn... A kinda country-rock band followed; not too thrilling but a 100% improvement on Fuck-Hawk.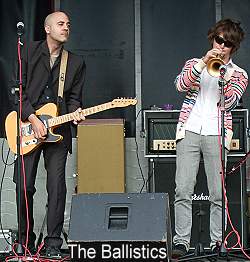 Finally THE BALLISTICS came on and instantly had the amassed crowd of Punkers, skankers and drunks at the front of the stage dancing and smiling. The band looked sharp (Roki distinctly so I must say) and sounded even sharper. From memory, most of the tracks in the band's 30-minute set were taken from the 'Spirit of Kelso Cochrane' album with a few new songs thrown in including the debut performance of a natty new tune. A tasty cover of RANCID's 'Time Bomb' was aired and the set closed with a sing-a-long-a-Glen in the shape of 'My Uncle Fred'. What makes THE BALLISTICS a step above most other Ska bands is the band's sense of fun and a sound and attitude that has a closer affinity with THE SPECIALS rather than banal blowhards like VOODOO GLOWSKULLS.
RED FLAG 77 followed on the second stage (well, truck as it was) and locked in and kicked out in an instant with 'How Low' followed by what could be the best song ever written by an Ipswich Punk band, 'As I Fall'. From there it was a clinical, tight performance with highlights being 'Time Has Been Called' and set-closer 'Backs To The Wall'. 'Nice Boys Don't Play Rock 'n' Roll' by ROSE TATTOO got the FLAG treatment and, with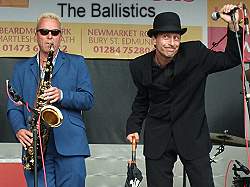 the new football (OK - Soccer for non-European readers!) season but a week or so away, vocalist Rikki kicked a few Ipswich Town inflatable beach balls into the crowd and then promptly burned through a turbo-charged take of 'Football Crazy'. It's great to hear the band still sounding so urgent and exciting; the new tracks exhibited here are trademark FLAG scorchers with a depth few of the band's contemporaries could match.
The 'festival' scenario certainly favoured the more accessible sounds of THE BALLISTICS, but RED FLAG 77 unequivocally provided the proverbial kick-in-the-guts that these events usually so desperately need.
I headed to the beer tent and paid only fleeting interest in SUSPECT DEVICE - a 'Sound Of The Suburbs' Punk jukebox cover band. 'Teenage Kicks', 'Babylon's Burning', 'Should I Stay Or Should I Go' yada yada yada. Kinda fun but following the incinerating aural blast of RED FLAG 77, the band sounded pedestrian and laboured.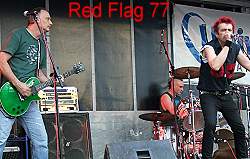 The bands that followed were another pair of tedious cover bands. Anything But Ordinary was everything but interesting. The band did vaguely lift me out of my coma with a good version of THE JAM's 'A Town Called Malice'; the singer's voice was a dead ringer for Paul Weller and I even considered applauding for a split second. Stingray closed the night and were only interesting in as much as the keyboard player wore a CLASH T-shirt that I had never seen before. It's a shame the band's sound was much less interesting. We got Franz Ferdinand and, apparently, the Arctic Monkeys. As the band's collective, well-deserved violent destruction was unlikely to occur, I went for another pint of Stella and contemplated what slow, torturous death would please me most for Mofohawk and Shitray.
Categories: Show Time!, UK