Click here to edit subtitle
| | |
| --- | --- |
| Posted on March 3, 2008 at 2:08 AM | |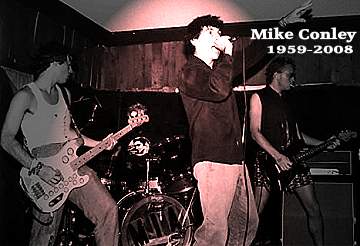 On Thursday 28th February 2008, singer of 1980s Californian Hardcore band, MIA, died due to the results of a head injury. He was 48 years old.
Conley died in suburban Chicago in a motel parking lot near O'Hare International Airport and had suffered a major head wound. Despite rumours of him being murdered and of a person who had been staying at the hotel being charged on the Friday with felony theft and other charges for stealing Conley's cell phone, two of his credit cards and using one of them at a local store, this proved to be no more than a rumour. Conley's death actually resulted from a tragic and freak accident which was the result of a fall in the motel's parking lot.
MIA formed out from the ashes of a Las Vegas Punk band, SWELL, when Conley and drummer Chris Moon move to Orange County. SWELL's guitarist, Nick Adams, soon joins them after a sojourn in San Diego and MIA is born.
The band splits for a while when Conley moves back to Las Vegas. Following MIA appearing on a couple of classic compilations (
Maximum Rocknroll'
s 'Not So Quiet On The Western Front' and 'American Youth Report'), the band reforms when Conley moves back to Orange County.
Over the following years, a series of records was released including 'Murder In A Foreign Place' EP and 'Notes From The Underground' album before the band split once more following a final show supporting DEAD KENNEDYS.
The band reforms in 1986 and records the 'After The Fact' album the following year before the final split.
In 2001, Alternative Tentacles released a compilation of studio and live recordings titled 'Lost Boys' which serves as an ideal catching up point of this great band.
Former DEAD KENNEDYS singer Jello Biafra remembers the first time he saw MIA in Las Vegas in 1983. "The venue was two used storage spaces that some Punks had knocked the middle wall out of and turned into a secret illegal nightclub," Biafra said. "You can't get more Punk Rock than that that, and that is where I first saw MIA." Biafra offered to sign Conley and MIA to his Alternative Tentacles label that night.
Recently, Conley became a champion for revitalizing the economy in Westside Costa Mesa as the owner of The Avalon Bar, 820 19th St., a popular venue for Orange County DJs. As a bar owner, Conley strove to make The Avalon Bar a hip enclave for people in the know. With no sign to attract customers, the establishment relied on word-of-mouth advertising. Conley was skilled at working with wood and restored all the wood cabinetry in the bar himself.
Conley is survived by longtime girlfriend Shelly 'Syd' Leonard and his three daughters: Alex, 18, a freshman and Division 1 soccer player at La Salle University; Zoe, 9, and Ava, 5.
A memorial fund has been set up for Mike's daughters so people can donate if they wish. If you want to help, here is the info:
Mike Conley Family Memorial Fund,
c/o Orange County Teachers Federal Credit Union
P.O. Box 11547, Santa Ana, CA 92711
A website is also in the works.
For further information, check out the following websites:-
The Daily Pilot
(where much of the information for this piece was taken)
MIA Official band site
Alternative Tentacles Records
Categories: In Memoriam, America