Click here to edit subtitle
| | |
| --- | --- |
| Posted on February 5, 2008 at 1:23 AM | |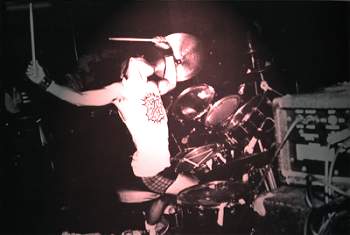 On Wednesday 30th January 2008, Sean Finnegan, the drummer of 80s Washington DC-based Hardcore band VOID, passed away due to an apparent heart attack. He was 43 years old.
Finnegan drummed in VOID for the duration of the band's active life, spanning 1980-1983. At the time of his death, Finnegan was working on the set of an HBO Production titled, 'The Wire'.
VOID was one of the first bands to be associated with Dischord Records, the legendary DC record label, via its appearance on the classic 'Flex Your Head' compilation. It was the band's following release, the classic split record with fellow DC band THE FAITH, which really put it on the map.
VOID played a chaotic, frantic form of Hardcore - possibly the most intense and disjointed of all the Dischord bands. The band's debut show was at a massive 15-band affair at DC's The Wilson Center organized primarily by THE BAD BRAINS.


The band didn't release a great deal during its three year tenure. Besides what is already mentioned, there was only a further three tracks released on the '20 Years Of Dischord' box set and the 'Condensed Flesh' release of early recordings which displays a slightly less intense, chaotic sound.
It should be noted there was also a full-length album recorded in 1984 titled 'Potions For Bad Dreams'. It's a Metal album though and while it is not as cheesy as SSD's 'Break It Up', it's still best avoided.
I never got to see VOID live and, to be honest, I always preferred THE FAITH's side of that record. But the intensity and the influence VOID held - and still hold today - should not be underestimated.
Categories: In Memoriam, America