Click here to edit subtitle
| | |
| --- | --- |
| Posted on October 6, 2007 at 5:17 PM | |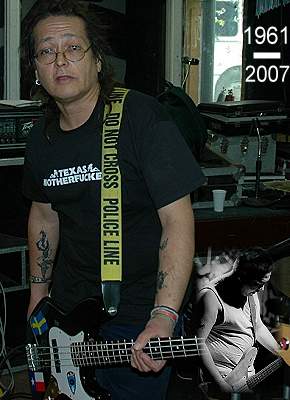 Back on September 22nd 2007, Mikey "Offender" Donaldson passed away in his sleep at his home in Barcelona, Spain. He was aged 46 and, at the time of writing, the cause is unknown.
Mikey was originally from Killeen, Texas and from 1978 through to 1986 played bass in the Austin HC band, THE OFFENDERS. If THE OFFENDERS mean little to you (then check out the re-issue of the 'Endless Struggle' album that Kangaroo Records released) then maybe the name DIRTY ROTTEN IMBECILES (DRI) will mean a little more. Mikey played bass on the band's killer 'Dealing With It' long-player. He was also the man responsible for laying down the bass tracks on the classic MDC debut, 'Millions Of Dead Cops'. Through the early 80s, Mikey could also be found playing bass for the band.
In 1986 he moved to San Francisco and worked with Gary Floyd (ex-DICKS) and Lynn Perko (IMPERIAL TEEN) in an outfit called SISTER DOUBLE HAPPINESS. He picked up a drug habit in San Fran also.
After dropping out of music for the best part of ten years, he returned to Austin and played an OFFENDERS re-union show at Emo's in 2002. There is various You Tube footage of this show circulating on the 'net.
Come 2003, Dave Dictor had recruited his services once more for work on the most recent MDC album, 'Corpses Of The Ultimate Dominators' and he had been touring with the band ever since.
Over the last four years, Mikey had rediscovered his lust for life in Amsterdam, Holland where he lived with his girlfriend Selina Hakkensen. During this period he united with former BGK man, Tony Slug, to work in Tony's band THE NITWITZ and work on his own squat band BRUTALIZED SS.
Donaldson's recent move to Barcelona proved to be his last.
To me - and seemingly many others - Mikey's style of playing was like that of a more Punk Rock Lemmy (MOTÖRHEAD), as he employed the use of bass chords and an aggressive speed-picking style few have matched since.
I never got to see the guy play live. Every time I have seen MDC has been with a line-up that didn't include him. Ironically, according to Dave Dictor, I may have had the chance to see him here in New Zealand next year as MDC had a planned tour of Australia and New Zealand set to happen in February 2008. THE NITWITZ was also planned to tour Turkey in April 2008.
Mikey is survived by his brother Joe Donaldson, sister Marie Donaldson Ward, and sister Sumiko Hakari , all of Killeen, Texas.
Categories: In Memoriam, America