Click here to edit subtitle
| | |
| --- | --- |
| Posted on June 29, 2007 at 10:21 PM | |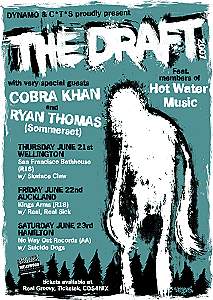 THE DRAFT / COBRA KHAN / RYAN THOMAS / SUICIDE DOGS
No Way Out Records, Hamilton - 23rd June 2007
I don't get to too many shows here in New Zealand due to Taumarunui being kinda isolated and public transport being kinda shite! This worked out ideal though; a Saturday show on a weekend I had already arranged to be in Hamilton and an early finish too - chuffed.
No Way Out Records is on the main street of Hamilton and was formerly known as Upsett Records. It's a shop dedicated to Punk, Hardcore and select Metal - an essential place to visit on any trip to Hamilton. The hall in which the bands played was a rehearsal space, basic floor lighting, no stage, a loud PA - a great place for Punk Rock as it lacked any kind of pretension or atmosphere-crippling mainstream intrusion.
Auckland's SUICIDE DOGS kicked things off with some rowdy Punk Rock. It was the most obviously 'Punk' band on the line-up and played a set of stirring, often bitter CLASH style anthems mixed with a barbed STIFF LITTLE FINGERS approach and topped with a modern thrust. The band looked really good too, with vocalist Luke in stencil-sprayed jeans and heaps of movement from the guys on either side of him. Tracks I caught that were particular standouts include 'Wasting My Life Away' and the lead track of tbe band's debut album 'Breakin' Away'.
Former SOMMERSET man Ryan Thomas was on next. I rated SOMMERSET highly and was looking forward to hearing what Ryan would do with just a guitar and his voice. For 6 songs it was OK, but then it became monotonous. The set consisted of new originals, a few covers (including a decent SOCIAL DISTORTION tune) and a couple of old SOMMERSET classics. I'm sure the new songs would benefit big-time with the backing of a band; as they are they all fused into one with only a couple having enough identity to stand out. If he had played a much shorter set, I think it would have been beneficial for all.
COBRA KHAN feature another ex-SOMMERSET man, Milon Williams, along with members of other notable Kiwi bands like COLD BY WINTER and BALANCE. The sound was instantly bombastic after Ryan's solo dirge. It was loud, hard, punchy and rather bludgeoning - but great! I don't have the band's 'Sleepless Lions' release, but I did pick up a few titles like 'Runaway' that featured some blazing guitar lines and mass-backing vocals. The closing, rather hypnotically punishing track was stunning also. The only negative was the fact that Sarah's keyboards were sometimes lost under the concentrated battering ram of the guitar attack. Definitely a Kiwi band to check out.
THE DRAFT which, like you should already know, feature ¾ of HOT WATER MUSIC (Chuck Ragan being the omitted ¼). Kicking off with the uplifting 'New Eyes Open' the band instantly pulled the crowd (which was stunningly sparse) in and held their attention for the entire 35-40 minute set. Most of the 'In A Million Pieces' album was played, but special mention must go to 'Let It Go', a cataclysmic 'Wired' and the uplifting, triumphal set closer 'Lo Zee Rose'. Chris seemed much chattier on-stage with THE DRAFT than he did the last few times I saw HWM and it was good to see the band enjoying the performance. That rhythm section of Jason and George is still one of the best I have ever seen - I've said that before but the pair are so tight and inventive musically it's a joy to watch and hear. I was expecting at least one HWM track but, thankfully, never got one. It was great to see THE DRAFT not relying on HWM's highly respected reputation.
And so it ended - a great night where the Kiwi bands could hold their heads high and the gang from Gainesville certainly washed away the residue of their former band to offer something new, enthralling and no less special.
Categories: Show Time!, New Zealand, America