Click here to edit subtitle
| | |
| --- | --- |
| Posted on January 7, 2009 at 2:55 AM | |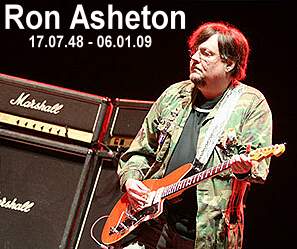 On Tuesday 6th January 2009, Ron Asheton, guitarist of THE STOOGES - whose raw sound helped inspire the first generation of Punk musicians - died. He was 60.
Asheton was found at his Ann Arbor home early Tuesday morning by police officers after they were called by an associate who had not heard from him in several days, said city police Sgt. Brad Hill. There were no signs of foul play, and the death appeared to be of natural causes.
Asheton was born on 17th July, 1948 in Washington, D.C. He moved to Ann Arbor - along with his mother and brother (and co-founder of THE STOOGES) Scott - soon after the death of his father on 31st December 1963.
It was here he would meet one Jim Osterberg and the birth of what was THE prototype band of Punk Rock was formed. Asheton's pummeling, distorted guitar on songs like 'I Wanna Be Your Dog' and 'T.V. Eye' was a hallmark of the group's sound. His "technically adept but also beautifully raw" style was heavily influenced by free jazz and created "beauty out of noise," said Brian Cogan, a Punk-music historian at Molloy College on New York's Long Island.
"He invents the template for Punk-rock guitar," Cogan said. "He's the one who allows Johnny Ramone and the guys in the Dictators to play the way they do."
Asheton recorded three albums with THE STOOGES, although for the third - the mind-melting 'Raw Power' - he was relegated to playing bass thanks in no small part to IGGY POP and the appearance of James Williamson.
Following THE STOOGES split, Asheton played guitar for bands including the NEW ORDER, NEW RACE, DARK CARNIVAL and, most importantly, DESTROY ALL MONSTERS that featured Ann Arbor, Detroit Rock City rival Michael Davis formerly of MC5.
In 2003, Asheston reunited with the rest of THE STOOGES and a new album, 'The Weirdness' was released in 2007. The band toured from here, including an incendiary stadium show at Sydney, Australia's Big Day Out Festival that I was fortunate enough to witness.
In the wake of Asheton's passing, comments from big names and small have flooded in. Former band mate, the irrepressible IGGY POP named Ron Asheton as, "my best friend" while a band statement said, "For all that knew him behind the facade of Mr. Cool & Quirky, he was a kind-hearted, genuine, warm person who always believed that people meant well even if they did not. As a musician Ron was The Guitar God, idol to follow and inspire others. That is how he will be remembered by people who had a great pleasure to work with him, learn from him and share good and bad times with him."
Russ Gibb, who owned Detroit's legendary Grande Ballroom and gave THE STOOGES its first major show there in 1968, said Asheton was a gentleman in all of their dealings.
"Wherever he is today, it's a better place because he's there," Gibb said Tuesday. "He was a gentleman musician. The musicland that you and I live in has lost something today and wherever musicians go, they're better today because he's there."
In 2003, Rolling Stone magazine cited Asheton as the 29th greatest guitarist of all-time (the phonies - just shows what they know! Asheton could tear apart any piece of Clapton with a single chord). 2009 sees THE STOOGES short listed again for induction into the Rock And Roll Hall Of Fame.
I need not say that the band's induction, with specific credence given to Ron Asheton, should not even be in doubt.
Ron is survived by his sister Kathy and his brother Scott 'Rock Action', who is THE STOOGES' drummer.
Categories: In Memoriam, America