Click here to edit subtitle
| | |
| --- | --- |
| Posted on February 6, 2009 at 2:06 AM | |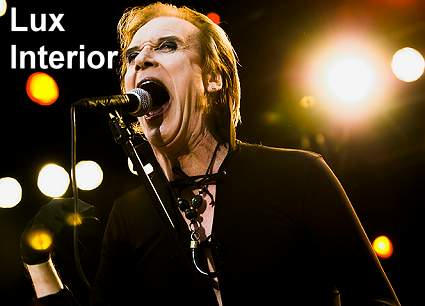 On Wednesday, 4th February 2009, Lux Interior - co-founder and lead vocalist of THE CRAMPS - died at Glendale Memorial Hospital in California. The cause of death was related to a previously existing heart condition. Reports state Interior - real name Erick Lee Purkhiser - as being either 60 or 62 years of age; Billboard magazine's website states he was born in Stow, Ohio on 21st October 1948.
Interior (who took his name from a car ad) founded THE CRAMPS in 1973 after meeting his wife, Kristy Wallace - who would mutate into the band's guitarist, Poison Ivy - in Sacramento, California in 1972. Following a move to New York in 1975, the band was soon a staple of the fledgling New York Punk scene as it welded a love of horror b-movies and sexual depravity with the raw intensity of Punk and lo-fi scuzzy Garage Rockabilly.
Interior was a commanding front man: pale, tall and gaunt. He'd usually appear shirtless with black hair and tiny, low-slung black pants as he crawled, writhed and howled his way across the stage. With the addition of Bryan Gregory (later Kid Congo Powers who was eventually followed by, in a live capacity only, Mike Metoff of THE PAGANS) THE CRAMPS created a trashy, duelling guitar sound that was played in front of a minimalist, animal beat which literally stripped the corpse of rock 'n' roll naked and transformed it into a psychotic, ignominious glorification of trash culture.
Since releasing the debut EP, 'Gravest Hits' in 1979 (which compiled the two previously self-released 7"s), the band recorded a total of 13 studio albums culminating with the 2003-released 'Fiends Of Dope Island'. Interior and Ivy were the only constant members of the band which was still touring with its flamboyant, fetishistic live show until as recently as November 2008 with jaunts across both Europe and the U.S.
Among the band's litany of infamous shows was a notorious concert for patients of a Californian mental institution - the Napa State Mental Hospital - in 1978. Grainy black and white footage of this surreal show abound on You Tube. Other notable appearances include a Halloween episode of Beverly Hills 90210, a performance of 'Tear It Up' from the 1980 film, 'URGH! A Music War' and even the video of 'Bikini Girls With Machine Guns' drawing rave reviews from Beavis and Butt-head.
In 1987, rumours that proved to be false circulated about Interior's death due to a Heroin overdose. "At first, I thought it was kind of funny, but then it started to give me a creepy feeling," the singer told the Los Angeles Times. "We sell a lot of records, but somehow just hearing that you've sold so many records doesn't hit you quite as much as when a lot of people call you up and are obviously really broken-up because you've died."
The general consensus from critics and fans alike is that the early 80s period of the band proved to be its peak with the release of the debut album 'Songs The Lord Taught Us' and its follow-up 'Psychedelic Jungle'. Other notable efforts must require the mention of 'Smell The Female' and the 1987 live album - one that highlighted us here in New Zealand - 'Rockin n Reelin In Auckland New Zealand'. The band even has a spot in the Rock 'n' Roll Hall of Fame via a shattered bass drum through which Interior had forced his head.
He is survived by Wallace, his wife of 37 years. A statement from THE CRAMPS' media representatives reads: "Lux has been an inspiration and influence to millions of artists and fans around the world. He and wife Poison Ivy's contributions with THE CRAMPS have had an immeasurable impact on modern music. He is a rare icon who will be missed dearly."
Stay sick Lux... Music in general needs more like you.
Categories: In Memoriam, America