Click here to edit subtitle
| | |
| --- | --- |
| Posted on March 11, 2009 at 3:05 AM | |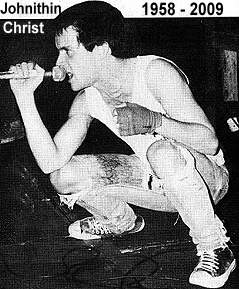 During the morning of Thursday 5th March 2009, Johnithin Christ, vocalist of San Franciscan Hardcore band CODE OF HONOR, died. His immune system had remained weak due to steroids and chemotherapy prescribed to combat a brain tumour diagnosed in 2008. Although he beat that, he did not survive more recent complications resulting from an attack of pneumonia.
Christ was born in 1958 and on beating the tumour he wrote on his Myspace page, "Nice to be alive for a few thousand years more; life is to live."
CODE OF HONOR was birthed after the short-lived SICK PLEASURE broke up. CODE OF HONOR released its records on Subterranean Records - the label run by the band's guitarist, Michael Fox, starting with a split album with older SICK PLEASURE recordings and the 7" 'What Are We Gonna Do?' both of which saw light of day in 1982.
The same year, what has arguably become the band's most widely recognized track, 'What Price Will You Pay?' appeared on the classic 'Not So Quiet On The Western Front' compilation, released by Alternative Tentacles. The band's sole album, 'Beware The Savage Jaw' was released in 1984. It was just as the final mix-down was completed that the band decided to split up.
Subterranean has issued 'Complete Studio Recordings 1982-1984', a comprehensive document of the band's short existence.
"Be fighting still" was a CODE OF HONOR motto, and Christ made it count until the end.
Condolences to those who knew him.
Categories: In Memoriam, America